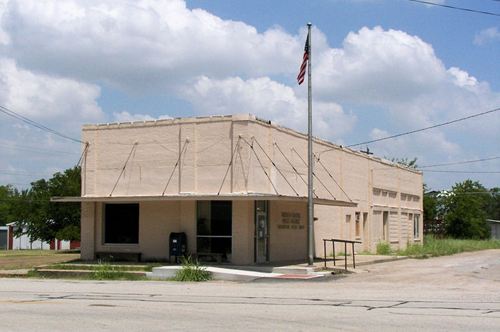 History in a Pecan shell

Thornton was started in 1868, just two years before the railroad came through. In this case it was the Houston and Texas Central Railway. The town's name came from one of the founders, John E. Thornton.

The town grew, although slowly. Besides agriculture, there were brick yards and ceramics manufacturing. The Thornton Institute was started in 1877. This was a college that later became the Thornton School.

In 1890 the population was 460, over twice what it was in 1880. The town incorporated in 1907 and in 1927, just before the stock market crash, Thornton hit its population zenith of nearly 2,000 people. In the first years of the Depression the population fell by more than half. Today the population is 526.

Thornton watertower
TE photo, 2001
Detail of the Thornton School
TE photo, 2001
Thorton's Masonic Emblem dates back to 1878.
TE photo, 2001
Please don't confuse Thornton with Milam County's Thorndale (Population 1,358).


Thornton, Texas Forum
Information sought on Death of Baptist Minister near Thornton:

I have an ancestor that lived in the [Thornton] area before Thornton was a town. It was in the 1860s that Reese Alexander Clifton and his in-laws, the Steele Family bought land. Reese was a Baptist minister and in 1872 he was murdered by some local carpet baggers that had taken over the county - so the family history goes. His family continued to live on the family farm until the late 1880s then sold out and moved to Haskell County. We will be in the area in March with other relatives to locate the family farm and cemetery. Any information [anyone] can furnish on the death of Reese Clifton would be appreciated. - Dana Funk, February 7. 2006
---
Texas Escapes, in its purpose to preserve historic, endangered and vanishing Texas, asks that anyone wishing to share their local history and vintage/historic photos, please contact us.