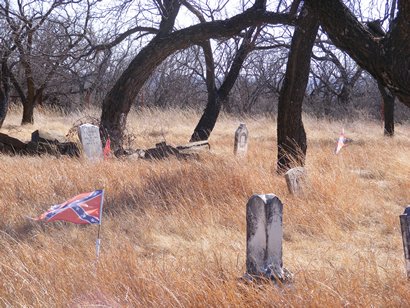 History in a (Burkett) Pecan Shell

The county was established in 1858 but hardly anyone was interested in settling this region for the first twenty years. Founded in 1876, Callahan City was originally a waterhole on the Western Cattle Trail to Dodge City. As Yogi Berra might have said: "It's future was ahead of it."

Stores appeared to supply traildrivers, and with the arrival of settlers, they started stocking items for permanent residents.

The first Callahan County Commissioners Court was held here in July of 1877, but despite having the advantage of it's name – it lost county seat status to Belle Plain in December that same year.

Belle Plain hardly had time to gloat – they lost their county seat status to Baird a short time later when the Texas and Pacific Railroad came through, bypassing both towns.

A cemetery (shown on county maps) is now all that remains of Callahan City.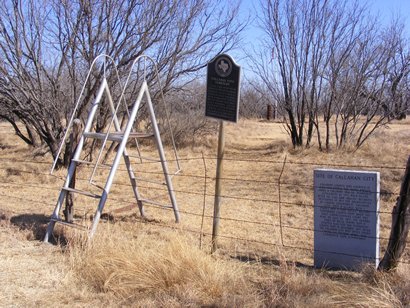 Photographers' Note:
The cemetery of Callahan City looked semi-maintained. Grass was pretty high and the flags were faded, but it still seemed like it received regular visitors. - Lexie Nichols and Jordan Gibson, February, 2009
Texas Escapes, in its purpose to preserve historic, endangered and vanishing Texas, asks that anyone wishing to share their local history and vintage/historic photos, please contact us.
Custom Search