Belle Plain is one of the major ghost towns included in T. Lindsay Baker's first ghost town book Ghost Towns of Texas
The deteriorating home of the dean of Belle Plain college, the ruins of which still stand some 200 yards behind this structure.
- Photo courtesy Noel Kerns, September 2007
History in a Pecan Shell

Named after the first first child born here (Katie Belle Magee) the town was established on state school land in 1876. A man named Nelson Smith platted the town carefully, even designating a commercial district. Smith and others had great hopes for Belle Plain's future - which probably doomed it from the start.

After Callahan County was organized in 1877, Belle Plain won the election for county seat - essentially dooming its rival - Callahan City.

Belle Plain was on a roll. New arrivals as well as deserting Callahan City swelled the population. The towns hopes were underlined with numerous permanent stone structures - including the Belle Plain College - the ruins of which still stand.
The former Dean's residence at Belle Plain College
Photo courtesy Erik Whetstone, 2001
Belle Plain College, 1881-1888
Photo courtesy texasoldphotos.com
In 1879 the town got it's own newspaper and success was all but assured. The population reached a respectable 400 people by 1884, according to the Handbook of Texas.

Along came the Texas and Pacific railroad. It built through Baird - essentially doing the same to Belle Plain as Belle Plain did to Callahan City. Baird became the county seat in1883.
The old Callahan County Jails originally in Belle Plain, now in Baird
Photo courtesy Charlene Beatty Beauchamp
The newspaper moved to Baird and even the stone jail was dismantled (to be remantled in Baird where it eventually became a Boy Scout meeting place.

The region then went through a hard winter in 1884-85 immediately followed by a drought. Somehow the college managed to hold on until 1892.

By 1897 only a store and a few diehards were left to keep the post office open until 1909 when it too closed.

The detailed county map of Callahan County shows a cemetery marked Belle Plain.
Ruins of the First (1877) Callahan County Courthouse in Belle Plain.
1930s photo courtesy TXDoT
Photographer's Note:
We did not get pictures of Belle Plain Cemetery, it was about a mile south of the location of the College. The pictures we got were the main college building and what I believe is remnants of the Dean's house. - Lexie Nichols & Jordan Gibson, February 09, 2009
Texas Centennial Marker
Belle Plain
First official county seat of Callahan County, 1877-1883. The first unofficial county seat was Callahan City where the commissioners court was organized, July 30, 1877, and several civil and probate cases filed by an invalid election, October 13th, and a valid election, December 9, 1877 Belle Plain was selected. On January 16, 1883, the county seat was located at Baird.
About one mile south of Belle Plaine College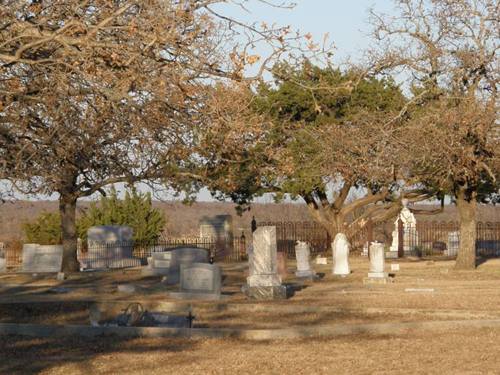 Historical Marker
Belle Plaine Cemetery
Residents of the short-lived community of Belle Plaine were burying their dead at this site as early as 1878. Although the presence of unmarked graves suggests earlier possible usage, the oldest marked grave, that of sixteen-year-old Virgil Hill, dates to that year.

Belle Plaine residents informally established a community cemetery here on vacant land. The graveyard was located within a larger tract of land that was owned by the state until 1861 and later by several railroad companies. Its last private owner, the Texas & Pacific Railway Company, purchased the tract that included this graveyard in 1879 when it anticipated routing its railroad through Belle Plaine. However, in 1883 the route was changed to pass through nearby Baird. In response, the railway company deeded the cemetery property to Callahan County the following year.

Though the community of Belle Plaine had declined by 1909, burials have continued to take place. Those interred here include area pioneers, their descendants, and veterans. The historic burial ground remains an important cultural resource in this area.
(1992)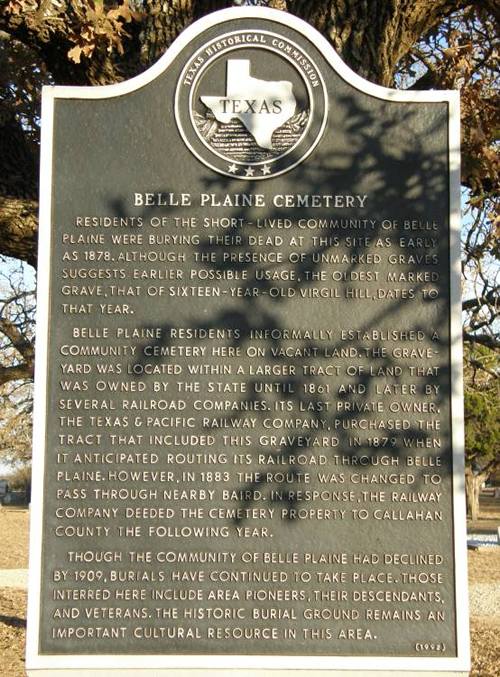 Belle Plaine Cemetery Historical Marker
Photo courtesy Barclay Gibson, December 2009
Belle Plain Brass Band
Click on image to enlarge
Photo courtesy Christopher Halsted
Subject: Belle Plain Brass Band photo

"I thought you might be interested in this photo of what appears to be the Belle Plain Brass Band. (I belong to an antique brass society, and members often post photographs they've picked up at auction or an old thrift stores. This photo turned up in England.) For a number of reasons such as the text visible on the flag (BELLE, COLLEGE, and the E of Texas? - see flag), the combination of blue and gray uniforms (something that was unique to this college), the Yucca vegetation, the building windows, which can be seen as matching in later Belle Plain College photos, and the card displaying the main college building (see enhanced contrast photo) this picture shows the brass band probably at its peak in 1884, just after the decision to have the railroad run through Baird was made, and the town of Belle Plain fell into decline. Perhaps some visitors to your site will spot their ancestors in this photo.

It was a fun project to track this photo's origin down; perhaps someone knows the meaning of LAMARTINE (A popular name at this time due to the French revolutionary poet, and almost the given name for nearby WACO Texas.) at the photo's top." - Christopher Halsted, Los Angeles, CA. June 30, 2022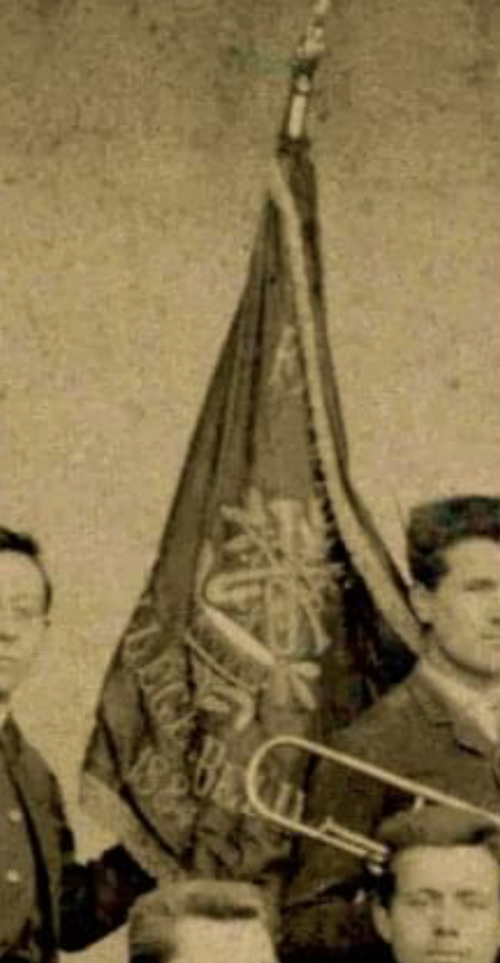 Close-up of Belle Plain Brass Band flag showing name & "1884"
Photo courtesy Christopher Halsted
Belle Plain Brass Band
Photo courtesy Christopher Halsted
Belle Plain College
Photo courtesy Christopher Halsted
---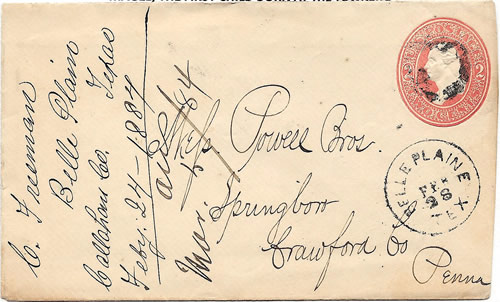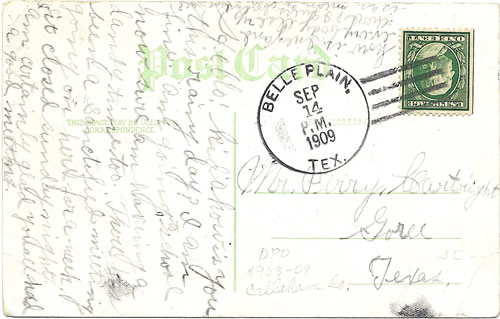 Belle Plain, Texas Forum
Ancestors Graves in Belle Plain
I ran across [your magazine] as I was googling Belle Plain, Texas and thought I would share a story about that ghost town.

My great grandfather was born in Belle Plain in September of 1887 at the height of BP's success. His name was Burney Lafayette (Bun) Gist.

Burney's grandfather/mother - my ggg-grandparents are buried in the Belle Plain cemetery. Both of their headstones are still standing to this day. Their names as engraved on the stones are: D.H. Gist (David Hamilton Gist d. 1894) and Pamela Gist d. 1893. They came to Belle Plain from Kentucky between 1870-1880. DH was a saddler and a farmer in Belle Plain and the kids and grandkids worked on farms there too as I understand it. DH and Pam Gist had many children that they also brought to BP including my gg-grandfather and Burney's father Nathaniel Lafayette Gist.

After Belle Plain died, Nathaniel took his family including Burney (Belle Plain native) and moved to the Red River area mainly Vernon and Quanah. Burney's son, my grandfather was born in Vernon. His name was Burney Lafayette Gist Jr. or B.L. as he known by. Anyway, their are still many Gist's in the Abilene, Texas area that are descendants of DH Gist from Belle Plain (who are no doubt all kin to me).

Anyway, the reason I wrote y'all was that I have direct ties to Belle Plain and appreciate the photos you all have placed on the web. They are a glimpse of my family history and I wanted to say thank you! I have been trying to get a free weekend so I can drive out there and see my ggg grandparents graves and clean their headstones, etc. Just thought y'all would appreciate my little story about Belle Plain, Texas. - Benton Gist, Kennedale, Texas, January 11, 2008


Subject: Baird & Belle Plain, New Jail
I recently reviewed your site and was very interested in the information about the New Jail in Baird. My mother (Nora A. Reed Bridges) was born in that jail in 1897. Also, two brothers were born there. My maternal grandfather, J.M. Reed was the jailer and my grandmother cooked for the inmates. They moved from there to the Haskell area where my grandfather was a blacksmith and deputy sheriff. - James R Bridges, June 04, 2005
---
---
Texas Escapes, in its purpose to preserve historic, endangered and vanishing Texas, asks that anyone wishing to share their local history, stories, landmarks and recent or vintage photos, please contact us.