CARANCAHUA, TEXAS
Jackson County, Texas Gulf Coast
On the eastern shores of Carancahua Bay
2 miles east of the junction of Highways 172 and State Highway 35
About 14 Miles W of Palacios
About 24 Miles S of Ganado
Population: Unknown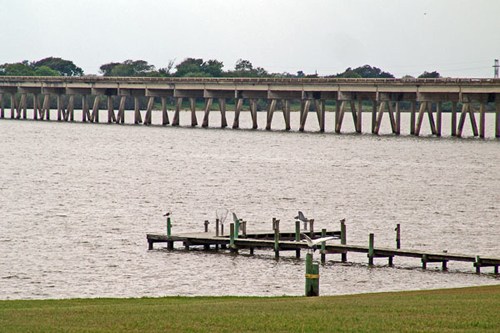 Photographer's Note:
Cape Carancahua
On the eastern shores of Carancahua Bay and south of Hwy 35 is this residential village. It is 2 miles east of the junction of 172 and 35. Remember Hwy 35 bridge and road at this point is traveling east and west, whereas it is considered to generally travel north and south. - Ken Rudine, August 03, 2008

History in a Pecan Shell
Named after the bay on which it was settled, the under-populated community was on the mail route between Texana and Matagorda in the 1880s. From a "mail stop" called Freeport, Carancahua got a legitimate post office of its own in 1897, which closed in the mid 1920s. In 1908 an attempt was made to interest investors in small plots, but the swampy land (not to mention the mosquitos) discouraged would-be buyers.

There were only 50 people living here in 1915, declining by half for the mid 20s. By 1931 there was hardly anyone left to count. A community building reportedly still stands although the population has since dispersed, leaving only the community sign.
Park on the cape's east shore
Photo courtesy Ken Rudine, August 2008
Boat ramp on the cape's west shore
Photo courtesy Ken Rudine, August 2008
Cape tip is to the right of this picture, southwest
Photo courtesy Ken Rudine, August 2008