---
---
---
History in a Pecan Shell
Liberty once stood at the head of navigation on the Trinity River. Founded near a 1756 Spanish settlement called Atascosito American squatters began arriving around 1818. The new arrivals petitioned to be included in Stephen F. Austin's colony, but were refused. Under Mexican law, land commissioner José Francisco Madero established a new municipality, Villa de la Santísima Trinidad de la Libertad which the Americans shortened to Liberty, some say after Liberty, Mississippi, the former residence of some settlers. The town was granted a post office in 1836.

Sam Houston practiced law in Liberty and maintained two plantation homes in Liberty County until his death. During the Texas Revolution, Andrew Briscoe's Liberty Volunteers fought at the siege of Bexar and the battle of Concepción. After San Jacinto, officers of the Mexican army were held for a time in Liberty at a location now known as Mexican Hill.

Liberty was incorporated in 1837 and became the county seat. The town became an important port, having steamship connections to Galveston and providing access to stage routes across the Trinity.

A school was founded in 1838. The town cemetery was marked off in 1848. In the 1850s, as the community expanded, additional industry developed around its gristmills, cattle shipping docks, and two sawmills. The Texas and New Orleans Railroad reached Liberty in 858. The railroad suspended operations during the Civil War, but resumed operations by 1875. Liberty was hit by smallpox and yellow fever epidemics in 1866 and 1867.

By 1900 the town was a sleepy river community where livestock roamed the streets legally. The towns proximity to the Batson-Old oilfield made it a boomtown for awhile after 1903 and a second boost came in 1925 when the the South Liberty oilfield was discovered. The Trinity Valley and Northern Railway Company arrived in 1907.

Attempts were made to make the Trinity navigable - and some 236 miles of waterway had been completed, linking barge traffic to the Houston Ship Channel.

Liberty's population for various years:
200 in 1845, 497 by 1880, 865 in 1900, 3,087 in 1940, 4,161 in 1950, 5,591 in 1970, and 7,733 in 1990.

During World War II, a camp for German POWs was constructed at the Liberty fairgrounds. Highway 146 was completed in 1950 and the Sam Houston Regional Library and Research Center opened in 1977.
Liberty, Texas Landmarks / Attractions
Geraldine D. Humphreys Cultural Center - 936-336-8901
1710 Sam Houston St., downtown Liberty
Museum, library and performing arts theater.
Historical Sites - Historical monument and markers identifying historic sites, old homes and structures. Visit Liberty-Dayton Chamber of Commerce for information. 1801 Trinity St. 936-336-5736
Liberty Bell Tower - adjacent to Cultural Center above
Liberty Opry on the Square - Live shows. 936-336-5830
Sam Houston Regional Library & Research Center -
936-336-8821. Free admission.
FM1011 off Hwy 146. Three miles north of Liberty
Liberty Hotels

Liberty-Dayton Chamber of Commerce - 936-336-5736
1801 Trinity Street
P.O. Box 1270, Liberty, Texas 77575
http://www.libertydaytonchamber.com/
Liberty Opry on the Square in the former Park Theater
TE Photo, 9-04-04
More Texas Theatres
Liberty Bell plaque
TE photo, 9-04-04
Former theater in Liberty, east side of the square
TE Photo, 9-04-04
More Texas Theatres
---
Liberty Chronicles
A Moving History by Bob Bowman ("All Things Historical")
The recent death of Bill Daniel of Liberty removed from East Texas one of its most colorful personalities, a bigger-than-life rancher and politician who, according to one of his eulogists, "squeezed a lot out of life."
...Bill Daniel is best remembered by some admirers for one of the strangest events in East Texas--the move of an entire town from Liberty to Waco, a distance of more than 200 miles, in October of 1986 during the Texas sesquicentennial celebration..." more


Champ D'Asile by Clay Coppedge
If a few Frenchmen and their allies could have had their way, Texas might have become part of a new Napoleonic empire. Two of Napoleon's generals seem to have had this in mind when they founded a colony called Champ D'Asile (Place of Asylum) at a site about three miles up the Trinity River near the present-day town of Liberty...


Liberty treated POWs well in 1830s and 1940s by Wanda Orton
With the Germans in the 1940s and Mexicans in the 1830s, the people of Liberty treated the prisoners humanely and with dignity... more


French Connection by Wanda Orton
While watching a TV history program about Napoleon's exile on St. Helena, I kept thinking about Liberty County...


The July 29, 1878 Solar Eclipse in Texas by Mike Cox
---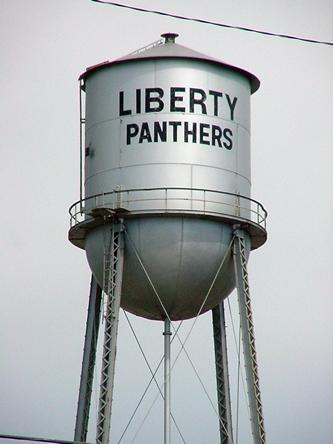 ---
Texas Escapes, in its purpose to preserve historic, endangered and vanishing Texas, asks that anyone wishing to share their local history and vintage/historic photos, please contact us.
---