The historical marker amid the plentiful southeast Texas vegetation.
TE Photo
Historical Marker Text
Anahuac Oil and Gas Field
Although oil production of major value began in Chambers County in 1916, this prolific Anahuac field was discovered on March 3, 1935, with completion of Humble Oil & Refining Company's A. D. Middleton No. 1 (1.8 mi. SE). The camp which housed Humble crews who developed the field was adjacent to this site.

The field encompasses some 14,000 acres of prime rice and grazing land and produces from 21 zones in a highly faulted domal structure. Producing depths range from 6,600 feet to 8,600 feet. Peak production was reached in World War II, when in 1944 annual total was 11,916,137 barrels. Discovery well had an original potential of 144 barrels a day from depth of 7,050 feet. It was deepened to 7,088 feet and recompleted March 14, 1935, with a new potential of 518 barrels. Through 1966, A. D. Middleton No. 1 has produced in excess of 390,000 barrels of oil.

Over 177 million barrels of oil and 268 billion cubic feet of gas have been produced from the field. (In Chambers County, a pioneer oil producing area, over 475 million barrels of oil have been produced since 1916.) At present, there are 408 wells in the Anahuac field, and it is expected that production will continue into the 21st century.
Incise in Base: Erected by Chambers County Historical Survey Committee, Guy C. Jackson III, Chairman
Monroe City History
"... The town, named for Monroe White, a prominent local citizen, was established in the wake of the discovery of the Anahuac oilfield in 1935. Companies with major interests in the Anahuac field included the Humble Oil and Refining Company (later Exxon Company, U.S.A.), followed by Sun Oil and Gulf Oil. By the end of 1935, H. S. Sterling had established a store at the oilfield camp, and the next year the Monroe City post office was opened. Some sources place the community population at 300 by 1939. By 1940 Monroe City had a lumberyard, several stores, housing for oilfield workers, and a Brown and Root company camp. As the boom subsided, the population declined to 120 during the late 1940s and to ninety by 1970. It was still reported at ninety through 2000. A plaque from the Texas State Historical Survey Committee (later the Texas Historical Commissionqv) marks the field, which had produced well over 270 million barrels of crude oil by 1985." -
Robert Wooster, "MONROE CITY, TX," Handbook of Texas Online (http://www.tshaonline.org/handbook/online/articles/hnm54), accessed May 10, 2015. Uploaded on June 15, 2010. Published by the Texas State Historical Association.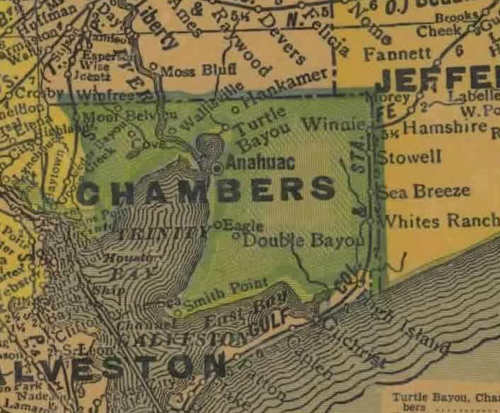 1940 Chambers County Map showing Anahuac
(Above "B" in "C-H-A-M-B-E-R-S")
Monroe City, 6 Miles E of Anahuac, is not on the map
Courtesy Texas General Land Office
Texas Escapes, in its purpose to preserve historic, endangered and vanishing Texas, asks that anyone wishing to share their local history and vintage/historic photos, please contact us.
Custom Search