First Presbyterian Church
Photo courtesy Ken Rudine, May 2007
History in a Pecan Shell

The town became a flag stop on the railroad shortly after the tracks were laid in the mid 1880s. The land had originally been part of the vast holdings of the Coleman-Fulton Pasture Company.

A windmill owned by the company stood nearby and supplied water for the railroad and the people who had gathered around the company stock pens. The town became known as Mesquital. The name was changed in 1900 when plans were made to turn Mesquital into a proper town.

Joseph F. Green, manager of the C-F Pasure Company named the new town Taft in 1904 - the year the post office opened. The naming was not after President Howard Taft, but his half-brother Chas. P. Taft.

In 1909, the company had over 2,500 acres planted in cotton and when failed land booms provided a surplus of buildings in Portland, Aransas Pass, and Rockport, several were moved overland to create the new town. The Coleman-Fulton Pasture Company also subdivided partions of their holdings to sell to farmers.

A dependable sourse of fresh water was discovered in 1909 which allowed the company to expand operations to include a packing-house, electric generating plant and an ice factory. Farmers who bought land were guaranteed a market for their livestock and produce.

President Taft himself came to the town to give a speech at the newly-constructed school in 1909. Nine years later the Board of Directors divested the entire operation and sold the entire ranch and it's infrastructure to the private sector. In the spring of 1921 ads for the upcoming auction were placed in major newspapers and 5,000 people attended the sale. The independent city of Taft was born.
President William Howard Taft Visited Taft
Photo courtesy Ken Rudine, May 2007
Oil was discovered north of town in 1935 which helped the town weather the Depression. Those not involved in the oil industry simply continued growing vegetables and shipped them out of the packing sheds that were built alongside the tracks. The last shed was torn down in the 1950s when the town was experiencing a post-war boom. A population decline set in in the 60s but with expansion of the port in nearby Corpus Christi, other residents moved in to form permanent households.

Taft Churches & Historical Markers

Taft Blackland Museum
Former offices of the Coleman-Fulton Pasture Company have been converted into the present-day Taft Blackland Museum.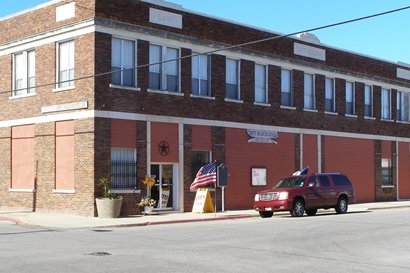 Photographer's Note:
Blackland Museum of Taft Texas
There are many items & displays that relate to the Taft and San Patricio County area. You can find here Early pictures of the area, Arrowhead collections, early Barb-Wire, Rocks & Gems, Seashells, a Blacksmith shop, a Boy & Girl Scout room, a military room, early doctor & dentist displays, & much, much, more. My daughter wants me to go with her to see the international Barbe Doll collection when we visit. Like I say there's a little bit of a lot! It's not often you can find a museum of this size in such a small town - William Beauchamp, February 01, 2009
Coleman-Fulton Pasture Company Historical Marker
Photo courtesy William Beauchamp, November 2008
Taft Churches & Historical Markers
First Presbyterian Church of Taft Historical Marker
Photo courtesy Ken Rudine, May 2007
First United Methodist Church
Photo courtesy Ken Rudine, May 2007
First United Methodist Church of Taft Historical Marker
Photo courtesy Ken Rudine, May 2007