HUNTER TEXAS
in the 20s and 30s
A Memoir by Pablo L. Sanchez

Photos courtesy Paul O. Sanchez
Vending tables in Hunter
Click on image to enlarge
Photo courtesy Paul O. Sanchez
I was born November 18, 1919, in Lockhart, Texas, but my early childhood began in Hunter, Texas when my family moved there in 1921. Although I was only two years old, I do remember persons that lived, and events that took place in those times. Hunter was very lively in those days for it sat between the International and Great Northern Railroad, which was called the "Linegene" by many, and the Missouri, Kansas and Texas Railroad, also referred to as the "El Katy."
A rare document from the Mexican Consul General in San Antonio appointing Bernardino Sanchez (father of Pablo) as Secretary of the "Mexican Honorary Commission" at Hunter, 1923-1924
Photo courtesy Paul O. Sanchez
The kinfolk back then were primarily Hispanic, and Hunter was known as "La Mota." The handful of Anglo residents that lived there were primarily farmers and cattlemen.
The General Store as it appears today.
Photo courtesy Paul O. Sanchez, 2005
The general store was owned by a Mr. Simon, referred to as "El Simon." In addition to owning the store, he was also the sheriff and the postmaster. The store was the center attraction. In those days every one made their own beer. In the evenings people would gather in front of the store drinking beer and relaxing. El Simon would join the group. He used to warn everyone that he never want to catch anybody making beer because, as sheriff, he would have to jail them. Yet, as owner of the store, he sold the very ingredients used in making beer -- yeast, blue ribbon malt, sugar in ten pound bags and boxes of bottle caps etc.
The Brothers Sanchez in Hunter, Pablo, left, and Augustin in hat.
Photo courtesy Paul O. Sanchez
I remember boyish days of playing at the old abandoned cotton gin near the railroad tracks. I remember seeing cattle drives that terrified me because of the size of the herds and the thunderous noise.
Vending tables displaying the plaster animal figurines. They sold like "hotcakes."
Clcik on image to enlarge
Photo courtesy Paul O. Sanchez
My father learned to make figurines of animals from plaster. He bought nine additional lots alongside the road and used them as vending areas to sell his plaster animals. In fact, as you entered Hunter, you'd see rows and rows of tables with these animals - from one end of town to the other. They sold like hotcakes. In fact, business was so good that my father paid cash for a brand new 1928 Model A Ford.
Vending table next to Dr. Dunn's house
Click on image to enlarge
Photo courtesy Paul O. Sanchez
I can remember Dr. Dunn, who was our family doctor. He was the best doctor in town - because he was the only doctor in town. I remember Mr. Brown who owned a clothing store, and I can still hear the pounding of the hammer on the anvil at the blacksmith - owned by Bruno. Although annoying back then, today I miss it dearly. Eluterio Parra, a young kid neighbor, took correspondence lessons to become an automobile mechanic, and of course, he became the town mechanic.

On weekdays you could see people walking either to the general store or the blacksmith and across the street there were some very small stores selling their products. You could see wagons, buggies, Model Ts, and horses; most of them parked by the general store or the blacksmith. Of course, on Sunday there were baseball games and nearly everyone in Hunter participated.

And then there was Old Man Riley who owned a gasoline pump. He furnished the gas to all the cars and farm equipment in Hunter.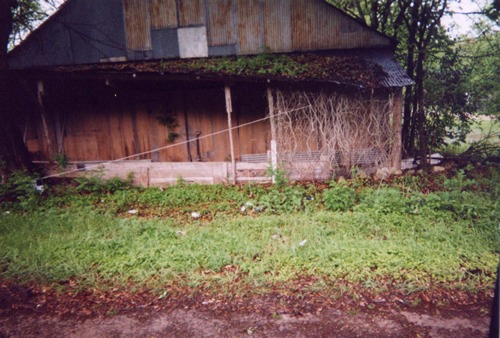 A recent photo of the Livery Stable at Hunter.
Photo courtesy Paul O. Sanchez, 2005
Riley's Tavern
TE photo, September 2001
When our family moved to Hunter initially, we purchased a home, but did not stay there long. On January 23, 1925 my father purchased what is now known as Riley's Tavern. Court records show that it was purchased from J. M. Cochran and his wife Mellie. We lived in that house until 1930 when my father moved us to New Braunfels. My grandfather, mother's dad, stayed at the house until 1932. Although it was our residence, it must have been a saloon way before our time because I saw beer racks in the attic. My father said the racks were to hold beer barrels. I heard it was a stopover for cattle drives in the 1800s.

Court documents reflect a 1937 lease for the residence was executed between my father and Old Man Riley for $48 a year --- the payment per month was $4. Court records also show that the residence was then sold to Curtis Riley (son) on November 3, 1942 for $700.
| | |
| --- | --- |
| | The author Pablo Sanchez served in the Pacific during WWII |
| | |
| --- | --- |
| | Brother Augustin landed at Normandy on Utah Beach and survived the Battle of the Bulge |
At the time, my oldest brother, Augustin, and I were away at war. He landed in Normandy at UTAH beach and eventually survived the Battle of the Bulge. I served in the Pacific War. When we returned from the war we learned that my father sold the residence. We were saddened and disappointed, no doubt, but certainly understood; for my father had a brilliant mind for business, and we knew better to ever question his decisions about our family and way of life.

The end of an era.


© Pablo L. Sanchez
August 1, 2005