Frio River
Photo courtesy Linda Kirkpatrick, October 2007
The Frio River runs parallel between Highway 83 and FM 112 from Leakey . The 200 mile river flows into the Nueces River - a mile south of Three Rivers - after joining with the Leona River and Sabinal. (See Swimming to Mexico )
History in a Pecan Shell

The town was settled between 1856 and 1860 and many early settlers had previously lived in Leakey . Rio Frio's population has never exceeded seventy-five people.

Rio Frio was once known only as "The Ditch" after an irrigation ditch dug by the Lombardy Trading Company. Very near the tree the same company opened an Academy for the education of the area children which soon became a well-regarded institution.

A timeline of significant historic events in Rio Frio
1868: Local businessmen constructed a gravity-flow irrigation canal off the Frio River.
1871: A school was established
1875: A charter was granted for the Lombardy Irrigation Company and the town was granted a post office. The Irrigation Company then sold small plots to arriving settlers who had the responsibility of maintaining the canal.
1918: Real County's last cotton gin closed after a boll weevil infestation and this gave birth to the mohair business.
1920: A church building was built - serving both Baptists and Methodists. The building was later made a mission serving the Mexican and Mexican-Americans of the area.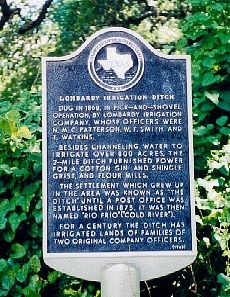 Lombardy Irrigation Ditch Historic Marker
TE photo, 2001
Rio Frio Cemetery
Photo courtesy Linda Kirkpatrick, October 2007
Photo courtesy Don Eichler, 2006
Rio Frio Nearby Destinations
Texas Escapes, in its purpose to preserve historic, endangered and vanishing Texas, asks that anyone wishing to share their local history and vintage/historic photos, please contact us.
Custom Search