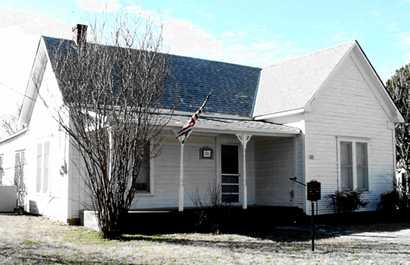 History in a Pecan Shell
Cross Plains had been named Turkey Creek - the stream that still crosses the town's Treadaway Park. It's early years had the basic necessities like a store, a cotton gin and gristmill, but little else.

They had one newspaper in 1902 (The Herald) but it soon went out of business. The second paper, The Cross Plains Review started in 1909 and continues to publish weekly every Wednesday.

The town incorporated in 1910 with a population of 600. Two years later the Texas Central Railroad came through. The Katy (Missouri, Kansas and Texas) Railroad took over the Texas Central and for years ran "The Peanut Special" between Cross Plains and De Leon (Comanche County). Peanuts were a major Callahan County crop.

An oil boom in 1925 increased the population and by 1940 it was over 1,200. It has remained hovering around the 1,000 mark for the last 50 years.
---
About Robert E. Howard
Cross Plains today has opened the former home of writer Robert E. Howard as a museum and holds an annual Barbarian Festival on Labor Day for Howard's most famous character.
---
| | |
| --- | --- |
| | A Bit of Cross Plains History |
---
Cross Plains, Texas Attractions
The Robert E. Howard House
625 West Highway 36. Open By Appointment
Open all day on the second Saturday in June.


The Cross Plains Public Library
149 N. Main Street (Hwy. 206)
Hours: Monday through Friday 1 to 5.
The library has copies of Novalyne Price Ellis' He Who Walks Alone for sale. The book is based on the short life of Cross Plains author Robert E. Howard.


Treadaway Park:
Hwy 36 West of Town: A former state roadside park; it is now a Cross Plains park. It is the location of the annual Cross Plains Barbarian Festival.


East and West Caddo Peaks -
Five miles West of town. (Historic Landmarks - not accessible)

Cross Plains Tourist Information
Cross Plains Economic Development: 254-725-6397
---
Cross Plains, Texas Forum
Subject: Cross Plains Bank Robbery, 1974

Does anyone remember the two "ole" boys who robbed the bank - with a "long tom" 12g. shotgun (borrowed from a grandad) in November, 1974? I was one of the three State Officers who caught them about 12 or 14 miles out of town, toward Abilene... It was a real comedy of errors - for the "bandits" - and good fortune for us...We were in the right place at the right time, and they were in the wrong place at the wrong time!!

It is hard to understand how, in a "country town" like Cross Plains, a man could get away with walking into the bank - in broad daylight, with a shotgun without getting shot...by someone, but I'm sure it all happened so quickly that no one had time to react... Just thought I'd ask who or how many remembered the incident... - Ronald Hill, Sweetwater, Texas, December 29, 2006



I was born in Rising Star Texas in 1952 and lived the first 6 years of my life in Cross Plains. My father worked at a truck stop owned by Owen Pancake. If anyone has any old pictures, please contact me at rich@our-town.com - Ronnie, February 16, 2004



You have a very interesting site.... I happened across it when looking for articles on Cross Cut. Found some pretty interesting things about the old town. Its closest call to fame, other than Robert, was Glen Strange and Curtis McPeters, who left Cross Cut in the late twenties and worked in the movies. They came back in about 1928 and did a program at the school. They had a band in Arizona and later got in the movies. Glen was Sam the bartender in Gunsmoke in later years. He also did a Frankenstein. McPeters was Cactus Mack and did 167 bit parts in old westerns. They were cousins and were part of the Byrd family.

When Lake Brownwood was built and it closed the road to Brownwood, a new road was built farther west. It was not paved until after the war. The road by-passed Cross Cut and left it further isolated. The main road originally was the main street of the little town. ..... - Norris Chambers



[Cross Plains Review] continues still. And just celebrated it's 95th year - according to the masthead of the newspaper. It's published every Wednesday and usually is 8 pages.... - Teri, July 22, 2003


Our thanks to Bobbye Hinkle of the Cross Plains Library for generously sharing her knowledge of Cross Plains and details of Robert Howard's life
---
Texas Escapes, in its purpose to preserve historic, endangered and vanishing Texas, asks that anyone wishing to share their local history, stories, landmarks and recent or vintage photos, please contact us.