---
---
History in a Pecan Shell

Present day Early was the original site of Brownwood. The county was organized and Brownwood made the county seat in 1857. Growth was slow until the 1880s and the dawn of the 20th century saw 4,000 residents in Brownwood. The courthouse burned in 1880, the first railroad came through in 1885. The second came through in 1891. Howard Payne College opened in 1889, the same year as Daniel Baker College that later became part of Howard Payne College in 1953.

1900 saw Brownwood as the biggest cotton center west of Fort Worth. An oil boom in the 20s didn't hurt the town, but it was nothing compared to the boom brought about by the building of Camp Bowie.
Camp Bowie, not to be confused with the WWI Camp Bowie near Fort Worth, was to become the largest training camp in Texas. The Brownwood population of 1940 (13,000) was more than matched just by the workers at the Camp. The severe housing shortage for military dependants and workers turned various buildings and even movie theaters into dormitories.
The Camp also served as a prisoner-of-war camp beginning in 1942, that held 3,000 German prisoners. Camp Bowie was deactivated in September of 1946. (See also World War II)
---
Historical Marker:
City of Brownwood
(first site 1 mile E; second, 5 miles SE, present location)
Settled 1857. Acquired a post office 1858. An oil vein ruined 1860s water well of townsite donor Greenleaf Fisk. Wagon-yard keeper Martin Meinsinger sold medicinal oil from 1878 well. Commercial drilling began 1889. Farming, cotton sales, business town since 1880s; was reached by Santa Fe Railroad, 1885; Frisco, 1890. Two colleges -- Daniel Baker and Howard Payne -- were situated here in 1889. Camp Bowie, World War II Military Post, operated in Brownwood from 1940 to 1946. Center for agriculture-retail sales-industry. Has a coliseum, parks, 110 miles of lake shore.
(1968)
---
Brownwood Landmarks / Attractions / Images:
Photograher's Note:
"This looks like it would be a great Texas town to live in. These are just the highlights of Brownwood." - Barclay Gibson
Douglas MacArthur Academy of Freedom
Affiliated with Howard Payne University.
The museum contains MacArthur memorabilia and a larger-than-life statue of MacArthur by sculptor Waldine Tauch.
Austin Avenue and Coggin - 325-646-2502
Phillips 66 Gas Station Sign and Lion Gas Pump
Jimmy Dobson Photo, September 2017
Brooke Smith Historical Marker
Photo courtesy Barclay Gibson, April 2015
Camp Bowie Memorial Park - Burnett Drive and Travis Road


Indian Creek Cemetery near Brownwood -
"Sometimes called Texas' greatest woman writer, [Katherine Anne] Porter died September 18, 1980, in a nursing home at College Park, Maryland, after a series of strokes. She was buried beside her mother's grave in the Indian Creek Cemetery near Brownwood."
See Katherine Anne Porter by Bob Bowman


Brownwood Hotels

Brownwood Tourist Information
Brownwood Chamber of Commerce:
In the recently restored railroad depot.
600A Depot Street - 325-646-9535
Website: www.brownwoodchamber.org
Photos courtesy Jason Grant
---
San Jacinto vets and Brown County by Mike Cox
" In 1836, as Texas colonists faced the largest Army in North America, no one of European decent lived in what would become Brown County.

But the struggle against Mexico had a lasting impact on the future 956.9-square mile political subdivision along the as-yet-unnamed tributary of the Colorado that later came to be called Pecan Bayou. The Texas Revolution set in motion events that eventually shaped the county's property lines and attracted some of the men who guided the county's early governmental, religious and educational development." ... more


The Fence Cutter War
(From "Owen Wister" by Mike Cox)
"Less than a decade before, Brownwood had been the epicenter of what came to be known as the Fence Cutter War, a bloody feud between those opposed to the end of the old free range days and those who enclosed their acreage with barbed wire.

The worst of the violence occurred in the mid to late 1880s, but as recently as three years prior to his arrival, Wister wrote, "this part of the country was in a high state of disorder…In 18 months there were 34 murders."

Those suspected of fence cutting and or cattle rustling often received a letter giving them 10 days to vacate the area, he noted.

"The results that followed upon neglecting the hint were so uniform that a man upon being given 10 days…was heard to exclaim, 'I'll let 'em have nine days back.'"

Some of those involving in issuing the warnings, Wister hinted darkly, later purchased land vacated by those who heeded the dreaded notification."


Eyewitness by Maggie Van Ostrand
J.W. Epperson, a carpenter by trade, lived at 1601 First Street in Brownwood Texas, though he wasn't always a carpenter and he didn't always live in Brownwood. He was once a newsboy and lived in Washington DC. This does not sound all that memorable except for one fact: He was selling newspapers at Ford's Theatre on the night of April 14, 1865... more


If It was a Fable, Let It Continue by Britt Towery
There was a certain pride of station when I wore the maroon uniform of a Lyric Theater usher. That was a time when theater ushers actually helped people find a seat during the film...


Chicken Fried Steak: An Unbiased Recommendation by Britt Towery
One thing I have tired to do through the years is to visit Underwood's Bar-B-Q when near Brownwood. Pity the poor traveler who is in Brownwood on a Wednesday...


Wisdom learned from the silver screen by Britt Towery
I was fortunate to get an early start on study of the history of the world. Every Saturday night mother took my sister and I to a double-feature at the one-aisled Queen Theater on Brownwood's Center Avenue.


Brownwood has a lot to be proud about by Britt Towery
Artist Blanche Westerman Springer


The Boy With Two Tombstones
Or Iraan's "Little Boy Lost." by Mike Cox
Perhealth found that an Isreal Ellis Clements, born March 3, 1870 in Brown County to Israel and Harriet C. Anderson Clements, died on Nov. 28, 1872 and is buried in the Roberts Cemetery on private property north of Brownwood. Perhealth checked the cemetery and discovered that the child indeed still has a tombstone bearing that information. That, of course, brought on the next mystery: If the little boy has one tombstone, why did he need another? And why was it more than 200 miles from Brown County? more

Book Hotel > Brownwood Hotels
---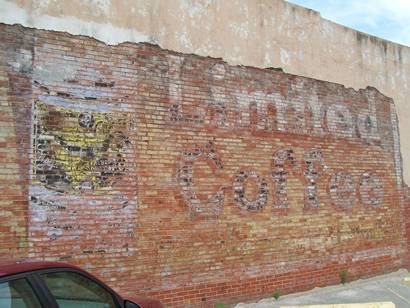 Photo courtesy Donna Chevalier, June 2007
Ghost signs in Brownwood
Photo courtesy Donna Chevalier, June 2007
More Ghost Signs
Texas Escapes, in its purpose to preserve historic, endangered and vanishing Texas, asks that anyone wishing to share their local history, stories, landmarks and vintage/historic photos, please contact us.