---
---
---
History in a Pecan Shell

In 1887 Jim Moore, a ranch foreman built a dugout about six miles southwest of the present Dawn. It was bought in 1889 by J. H. Parrish who opened a general store for area ranchers.

When the application was filled out Mr. Parrish requested "Dawn of a New Country," or something similar. It was a little too long for the bureaucrats so they took the liberty of shortening it to Dawn.

The first school was opened in 1891 by James N. Askren.

In 1898 the Pecos Valley and Northeastern Railway came to town and built a depot.

Dawn prospered as immigrant farmers moved in and ranches shipped cattle.

Irrigation wells were dug and wheat was planted. During the 1920s Dawn had the county's first school cafeteria. In the 1940s David Rodgers began marketing Deaf Smith corn meal, wheat berries, and stone-ground whole wheat flour. By the beginning of WWII the town had a population of 100 but after the war Dawn – like hundreds of Texas towns – lost businesses when people bought cars and moved away or started trading in other towns. In the 60s the Dawn school was consolidated with Hereford.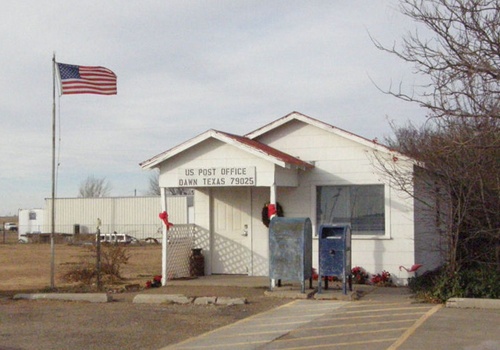 ---
Texas Escapes, in its purpose to preserve historic, endangered and vanishing Texas, asks that anyone wishing to share their local history and vintage/historic photos, please contact us.
---