The former Justiceburg Post Office

Photo by Bob Worley, January 23, 2005
History in a Pecan Shell
The town that had been known as Leforest had a post office operating under that name from 1902 - 1905. (See 1907 Postal map)

In 1910, Jefferson Davis Justice bought land in the area. He gave the railroad a right-of-way and donated land for the townsite. The town was then renamed in his honor. The railroad came through in 1911 and the people and businesses of Leforest moved to the new town of Justiceburg.

The population of Justiceburg has never exceeded 100. The closest it came was in 1980 when 76 people were recorded. Many of the people living in the area are descendants of Jefferson Davis Justice.


"Leforest received its postoffice on March 28, 1902, and Arthur E. Tuffing was the only postmaster listed. The name was later changed to Justiceburg, on June 3, 1910. This information comes from Jim Wheat's Post Masters and Post Offices of Texas." - Holly Hilpert, December 05, 2011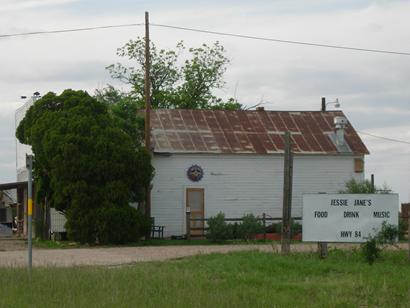 "The old post office appears to be 'Jessie Jane's' now"
Photo courtesy Ewan MacDonald, 2007 photo
"The shack right next to the former post office above. We didn't find out who was actually selling the firewood, if anyone." -
Ewan MacDonald, 2007 photo
---


Justiceburg Schoolhouse Front

Photo by Bob Worley, Jan 23, 2005
Justiceburg School
The Justiceburg school was a two room school house that was run by a husband and wife team. There was a small house on the property where the couple lived. The teacher couple that was there in 1956-57 were Mr. and Mrs. Monroe and after that Mr. and Mrs. Franklin. First - sixth graders were schooled here and a large group was a group of 25 children.

There used to be a bell that would be rung to signal the end of recess but that was stolen some time ago. There also used to be three metal rectangles out on the playground where my dad welded the structure and three tarps made our trampoline. It is sad to see but fun to remember . Glad I ran across the photos last night. - Nona Worton, January 21, 2008
| | |
| --- | --- |
| | "The school house has been gutted by fire... |
...but the playground equipment is eerily in place out front."

Photos by Bob Worley, Jan 23, 2005
The Merry-go-round

Photo by Bob Worley, Jan 23, 2005
The old Justiceburg Schoolbus

Photo by Bob Worley, Jan 23, 2005
Photographer's Note:
"There are many abandoned homes, some with furniture and clothes still hanging in the closets! Closer to highway 84 there are still a few occupied residences." - Bob Worley, July 07, 2005
One of the abandoned residences.

Photo by Bob Worley, January 23, 2005
Another abandoned home.

Photo by Bob Worley, Jan 23, 2005
"A place for everything..."

Photo by Bob Worley, January 23, 2005
---
Justiceburg, Texas Forum:
Subject: Justiceburg, Texas
I'm a Scot with a Texan girlfriend. On a recent road trip, we happened to pass through the outskirts (such as they are) of Justiceburg. Here are some photos to use on your site... Great site, by the way. Thanks, Ewan Macdonald, April 13, 2007


Subject: Norm Cash

Justiceburg, TX was the birthplace of Norm Cash (11/10/1934 - 10/12/1986).

Cash, a left-handed hitting first baseman, had a distinguished career in major league baseball, with the Chicago White Sox (1958-1959) and Detroit Tigers (1960-1974).

Cash led the American League in batting in 1961, hitting .361 (he later admitted to using a doctored bat for most of that season.) For most of the rest of his career, he was primarily known as a power hitter for the Tigers; he finished with 377 career home runs, and was a key contributor on Detroit's 1968 World Championship team.

Cash fell overboard while fishing in the Great Lakes on October 12, 1986, and drowned. - Regards, Bryan McGinnis, Beaumont, TX, December 30, 2005
Garza County 1920s map showing Justiceburg
From Texas state map #10749
Courtesy Texas General Land Office
Texas Escapes, in its purpose to preserve historic, endangered and vanishing Texas, asks that anyone wishing to share their local history, stories, landmarks and recent or vintage photos, please contact us.