History in a Pecan Shell
W. J. Newlin is the town's namesake. Newlin supposedly camped here with Charles Goodnight on a buffalo hunt in the late 1870s. Newlin was also instrumental in platting the town in the late 1880s when the Fort Worth and Denver City Railway was crossing Hall County.

Andrew M. Embry, who owned the townsite, constructed a hotel and lumberyard, anticipating immediate growth. A depot soon appeared, followed by a school. The railroad agent W. H. Meador opened the town's first store which gave space to the town's post office (granted in early 1890).

The town reached its zenith in the late 1920s with a population of 457. Newlin lost its bank in the Great Depression and after WWII the Newlin school merged with Estelline's schools.

The post office closed its doors in the late 1960s and the abandoned bank and a store were the only "downtown" structures in the 1980s. From the mid 1980s through 2000 the number of residents has been given as 31.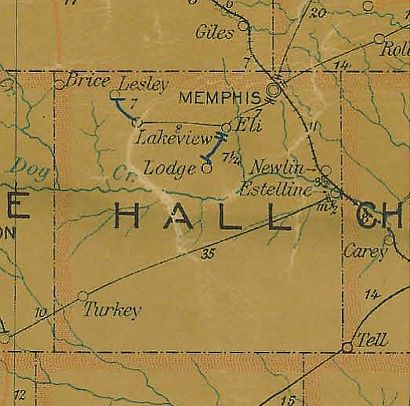 1907 Hall County postal map showing Newlin
(SE of Memphis. Above "L" in "HALL")
Courtesy Texas General Land Office
Texas Escapes, in its purpose to preserve historic, endangered and vanishing Texas, asks that anyone wishing to share their local history, stories, and vintage/historic photos of their town, please contact us.