The Issac McCormick Cottage
Photo courtesy Terry Jeanson, March 2008
Stinnett History in a Pecan Shell
The town got a late start as far as most county seats go. It wasn't until the summer of 1926 when town builder "Ace" Borger (namesake of Borger, Texas) and his partner J.T. Peyton sold lots in the fledgling community. The town's namesake was Amarillo resident Albert Sydney Stinnett, who bought the right-of-way for the the Chicago, Rock Island and Gulf Railway (Amarillo Branch).

The population soared from almost zero to 2,500, making it the largest town in the county. The former seat of government in Plemons was forced to relinquish that title when a special election was held in September of 1926.

The community managed to profit from the mid-1920s oil boom, but without gaining a reputation for lawlessness, even though a bootlegger was shot to death in the county jail. Illegal liquor seems to have been the town's major vice during Prohibition with just about any business in town supplying it.

The boom was over when oil prices bottomed out with the onset of the Great Depression. From a population nearing 3,000, Stinnett fell to just 500 residents. Seventy-five businesses shrank to fewer than twenty. As the new decade began, 635 people were counted for the 1940 Census. By 1960 it had grown to 2,695. The Census of 1990 reported 2,260 residents, the 2000 Census counted 1,936 and the 2010 Census had just over 1,800 residents calling Stinnett home.

Stinnett Namesake
Albert Sidney Stinnett was born in 1863 and named after Confederate General Albert Sydney Johnston (who had died the previous year). Born in Belton (Bell County), he moved his family to Amarillo from Fort Worth in 1905 and became a tireless promoter of Amarillo and the entire region. He sold his business to devote his time exclusively to development and spent two years getting the Rock Island Railroad to connect their existing lines to Amarillo, even financing part of construction costs to Kansas. He died in Amarillo in January of 1935 and was buried in that city's Llano Cemetery.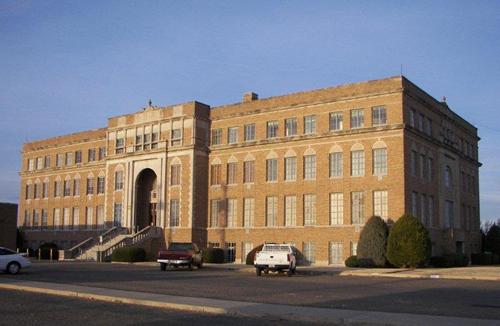 Stinnett Landmarks / Area Destinations
Issac McCormick Pioneer Cottage: On the Square

Markers for the Two Battles of Adobe Walls are located 18 miles NE of Stinnet

A scenic drive
A 25-mile loop - South on FM687, FM 1319 and East on Hwy 136
It crosses the Canadian River, eh?

Lake: Meredith/Sanford Recreation Area
16,000 acres managed by the National Park Service.

Stinnett, Texas Area Hotels
Amarillo Hotels | Borger Hotels
Issac McCormick Cottage historical marker
Photo courtesy Terry Jeanson, March 2008
Texas Escapes, in its purpose to preserve historic, endangered and vanishing Texas, asks that anyone wishing to share their local history, stories, and vintage/historic photos of their town, please contact us.

Stinnett, Texas Area Hotels
Amarillo Hotels | Borger Hotels
Recommended Books
Detailed accounts of the Battles of Adobe Walls can be found in
Frederick W. Rathjen's The Texas Panhandle Frontier and
Adobe Walls: The History and Archeology of the 1874 Trading Post by T. Lindsay Baker and Billy R. Harrison.
Custom Search
Save on Hotels - Expedia Affiliate Network