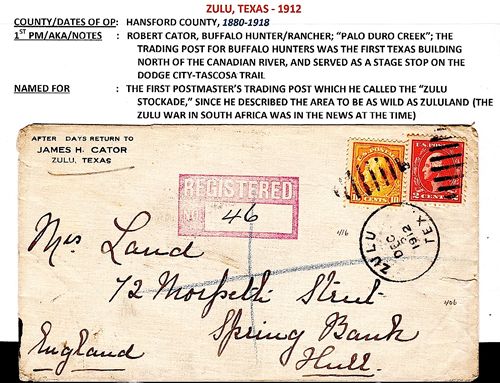 History in a Pecan Shell
Although it was never a community, Zulu Station deserves inclusion for being the first non-native "foothold" in what would become Hansford County.

The area was grazing land for the huge herds of buffalo that roamed these vast expanses. In 1873 when the area was still under Comanche "occupation" James and Robert Cator arrived. The English brothers had been sent by their father to start a farm in Kansas, but buffalo hunting was a faster way to make a living – without depending on cooperating weather.

As the buffalo were slaughtered, and the Red River Wars* removed the Comanche into Indian Territory, the brothers and their sister Clara decided to try ranching. They settled in along North Palo Duro Creek and built a house. They were soon joined by others who replaced the dead buffalo herds with domestic cattle.

They named their house and store the Zulu Stockade – perhaps for the prairies resemblance to the Zulu-lands of South Africa (which would soon erupt in the 1879 Zulu War).

When Hansford County was organized in1876, there were so few people that the county had to be administered by Wheeler County. The first census taken was in 1880 when only 18 people were counted.

Descendants of the Cators and Billy Dixon of Adobe Walls fame, continue to live in the region.
1907 Hansford County postal map showing Zulu, Hansford, Mulock
Courtesy Texas General Land Office
Hansford County map
Modification of Texas General Land Office 1920s map
Texas Escapes, in its purpose to preserve historic, endangered and vanishing Texas, asks that anyone wishing to share their local history and vintage/historic photos, please contact us.
Custom Search