Texas | People
Ten Things you should know about...
"SHANGHAI" PIERCE
Beef - it's what's for dinner - again.
by Brewster Hudspeth
Shanghai Pierce statue close-up
Photo courtesy Barclay Gibson, February 2009
1. Born in Rhode Island, Abel Head Pierce claimed he had to move when his 6-foot four-inch height made him sleep with his head in the lap of a person in Massachusetts. He stowed-away on an Indianola-bound ship and arrived in Texas a 19-year old with seventy-five cents in his pocket.

2. His name of Shanghai had nothing to do with China. Given by childhood friends - it was promoted in Texas by Pierce himself. It was said his height and too-short trousers made him resemble a Shanghai Rooster. Shanghai roosters were noted for being long-legged and scrawny. The resemblance was strongest when he wore spurs.

3. He worked his first year in exchange for $200 worth of cattle to start his own herd. When the time came for payment the few cows he was given were overvalued by 100% and past their prime. Several soon died. Cattle-Barons were self-taught and in lieu of books titled: "So You Want to be a Cattle Baron?" other future Barons gave lessons to one another - harsh lessons. Pierce was a fast learner and eventually got even with the man who paid him in worthless cattle.

4. His involvement in the Civil War consisted of being present. Although he was a Northerner, Pierce and his brother enlisted in "D" Company, 1st Texas Cavalry at Texana, Texas. His commander made him "company butcher" and his knowledge of "acquiring" cattle guaranteed his unit was supplied with beef. He later bragged about his role being equal to that of a Major General -"always on the rear in advance, always in the lead on retreat." He saw the war merely as an interruption in his cattle empire plans.

5. In dress and manner he bordered on the theatrical with brocaded vests, monogrammed shirts and broad-brimmed high-peaked hats. He ordered his gravesite statue long before his death so he would have time to appreciate it.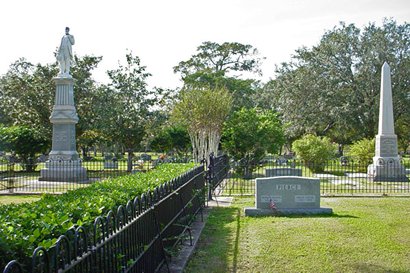 6. Pierce started out branding stray cattle - despite previous brands. It wasn't then a crime since everybody was doing it. By the time it became a crime - most of the stray cattle had the Pierce brand and he took it personally when his cattle or hides were found in other hands.

7. His lynching of several men for rustling (the men were on the Sutton side of the Taylor-Sutton duel) necessitated his leaving the state for a period of time.

8. His cheapness is reveled in some of his correspondence. After completion of a cattle drive where he netted 25,000 dollars - he added a note to his ranch boss to collect .50 from a cowboy he had loaned a pair of socks to.

9. Occasionally he was afflicted with generosity and he once bought the lumber for a church that was being constructed. Later while riding by the church - a visitor once asked: "Do you belong to that Church, Mr. Pierce?" The reply was - "No, That church belongs to me."

10. Cowboys often carried an alphabet of branding irons. One day Pierce spotted one of his cows that had been branded: AHP is a SOB. It amused Pierce and he didn't sell the cow. He let it range for life since he said it was a good advertisement.

Pierce died the day after Christmas, 1900. His empire underwent a huge loss after the 1900 hurricane that destroyed Galveston that June.

© John Troesser
First published December 2001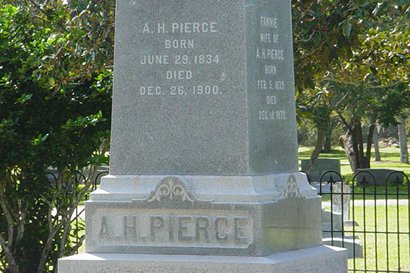 Abel H. Pierce Centennial Marker
Photo courtesy Barclay Gibson, August 2011
More about "Shanghai" Pierce's:
Pierce, Texas
An informal history of Pierce, Texas: Containing barely- related facts on neighboring towns in Wharton, Jackson and Victoria Counties. By Brewster Hudspeth
Readers' Comments
I first learned about Shanghai Pierce last February when I was asked to be part of the entertainment for the First Annual Shanghai Days Cowboy Gathering in Wharton in April. And then what I was told was not nearly as interesting as Hudspeth's account. ..... Well, thanks for the skinny behind Pierce. - Lou Ann Herda
Hawley, Texas & Hawley Cemetery

Related Topics: Texas | People | Texas Towns | Texas History
Custom Search