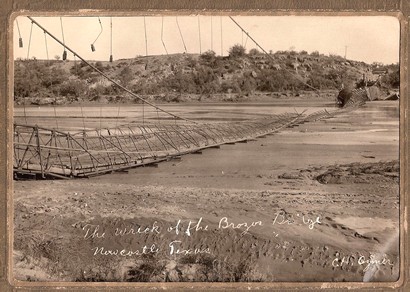 History in a Pecan Shell

The earliest settlement in the region was the establishment of Fort Belknap three miles South, but it was abandoned decades before Newcastle's first settlers arrived.

The Merrill and Clark Strip Mining (Coal) Company was here around 1906 and put out the "now hiring" sign. The Wichita Falls and Southern Railway arrived the following year from Olney and before long coal was being shipped to Wichita Falls.

In 1908 the old Fort Belknap post office was moved to town and an new application was submitted for Newcastle, Texas – after the English coal town. ("Carrying coals to Newcastle.") By 1909 the Newcastle population had reached 800.

That same year miners working for the Belknap Coal Company went on strike and formed a chapter of the United Mine Workers. Other strikes occurred in 1914 and 1915. The switch to oil burning locomotives decreased demand for coal and by 1942 mining operations quit as America entered WWII.

From a population estimated at 1,000 in 1950, it had fallen to 617 ten years later. The decline slowed and by the 1970 census it was 624. In 1990 there were 505 residents reported which has since increased to the present 594 (2010).

Photographer's Note:
Bank looked vacant, but not sure about feed store. - Mike Price, October 15, 2007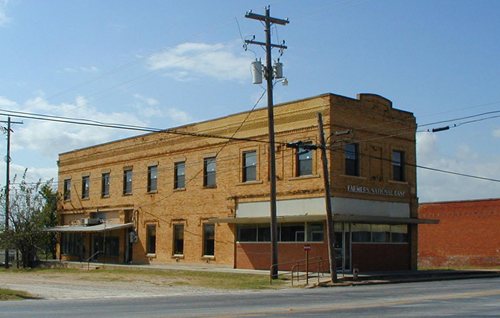 Newcastle bank building
Photo courtesy Mike Price, October 2007
Newcastle Farm Supplies
Photo courtesy Mike Price, October 2007
Young County 1907 postal map showing Belknap before the name change to Newcastle
Courtesy Texas General Land Office
Newcastle Area Attraction
Fort Belknap
Three miles south of Newcastle on highway 251. Established in 1851, the fort was moved to be closer to the Brazos River. The fort was a stop on the Butterfield Stage Route and was abandoned in 1867.
Texas Escapes, in its purpose to preserve historic, endangered and vanishing Texas, asks that anyone wishing to share their local history and vintage/historic photos, please contact us.