A courthouse detail that may depict the arrival of the Graham Brothers. TE Photo
History in a Pecan Shell

Settled by brothers Gustavus and Edwin Graham, who had bought 125,000 acres in Young County after the Civil War, the town began around 1871.

A saltworks was bought by the brothers in 1872, and Gustavus Graham surveyed the future town. Lots were sold and the first store was opened. A post office was granted and after a short dispute with Belknap in 1874, Graham was declared county seat of the newly organized Young county.

A frame two-story courthouse was built in 1876 and was replaced by a three-story limestone courthouse eight years later.

The current courthouse replaced the 1884 courthouse that was demolished in 1932.

In 1877, the Cattle Raisers Association was organized in Graham. It has since evolved into the Texas and Southwestern Cattle Raisers Association.

Dr. J. E. Ryus built a large brick drugstore on the west side of the square in 1879 and leased the upper floor to the Federal District Court for seventeen years before it relocated to Abilene.

The Chicago, Rock Island and Texas railroad arrived in 1903 from Fort Worth when the population of Graham was about 1,000. After the discovery of oil in 1917, the population more than doubled, but Graham was spared the uncivilized growth of other boomtowns.

By 1940, the population had exceeded 5,000.

According to the Handbook of Texas, in the mid-1960s Graham had seventeen churches, seven school buildings, a hospital, a radio station, two libraries, three parks, and two newspapers. Ranger and Cisco junior college satellite campuses provided higher education.

The population of Graham has increased slowly but steadily. Graham states on a downtown mural that they have the largest town square in America, but it is the overall neatness of the town that makes it a popular destination.
Graham Texas Landmarks/Attractions:
The old Young County jail, used from 1878 until 1921, now serves as an antique store and gift shop.
Photo courtesy Terry Jeanson, April, 2006
National Theatre
Photo courtesy Mike Price, October 2007
In Memory of Tom Cherryhomes
who died defending the records of Young County
Feb. 24, 1915
Photo courtesy Barclay Gibson, 2009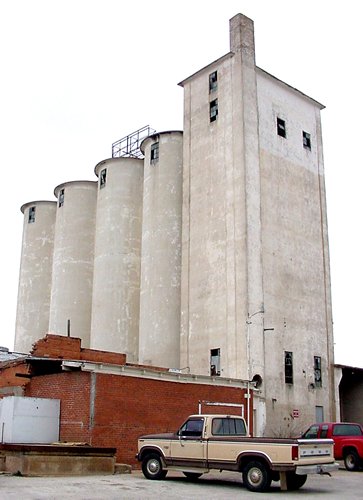 Graham, Texas People

Sheriff Kirk by Mike Cox ("Texas Tales" Column)
"...The killing of Sheriff Kirk stands out as an Old West shootout worthy of any Hollywood Western... Kirk has a nice marker in the Graham cemetery. Where they buried the outlaw who murdered the sheriff stands as a mystery today." more
A Lion and a Boy by Mike Cox ("Texas Tales" Column)
Texas has had no shortage of colorful oilmen, and Charles Edward Hipp, though lesser known than many of his wheeler-dealer contempories, rises near the top of the oil drum.
Graham Texas Forum


I was surfing the net this afternoon and found your website. I was looking at the photo of the National Theater in Graham and the caption ďOne of the two theater buildings on the square in GrahamĒ. Actually there is a third. I believe it was called The Palace. The other theater is the Leon. The Palace is located north of The National about 2/3 of the distance between it and the Leon. I donít know what the building is now but it was remodeled and opened as a Whites Auto Store some time in the late 1950s, approx. The original sloping floor was leveled by a lumber false floor built over the concrete. I donít know why all three theaters are in the same block. Maybe it was the natural slope that more easily accommodated the theater seating. The photo is of the west side of the square, looking west, and the slope is toward the rear of these buildings.

If you ever go to Graham, walk around behind the National and look at the north side of the theater building near the rear. You will see a large 8í diameter (approx) circle in the brick. That is where the windmill fan was installed to air condition the theater. I understand that the fan was electrically powered and there was a large intake covered by evaporative cooler padding, and this created an early evaporative cooler, sort of.

Incidentally, I was born (11-08-1946) and raised in Graham. I attended 12 grades of public school. I moved away for the last time in 1977. Isnít this silly. I canít remember breakfast but I do remember something that happened 45 years ago. - Don Wignall, Carrollton, TX, January 07, 2006


There is an historical error in the information listed on Finis, Texas:

"1889: A shootout between a lynch mob and the Marlow brothers sent two of the brothers to the Finis Cemetery. This incident was later screen-written into the movie The Sons of Katie Elder."

This shootout between a mob and the Marlow brothers did not happen in or near the town of Finis. The incident occurred near Graham, TX. Three of the Marlow brothers are buried in the Finis cemetery. This historical incident was a loosely interpreted in the mob attack in the movie "The Sons of Katie Elder." But the movie is in no way a complete representation of the Marlow brothers or the event in history. - Sincerely, Dorman Holub Chairman, Young County Historical Commission Graham, TX, April 12, 2004

Texas Escapes, in its purpose to preserve historic, endangered and vanishing Texas, asks that anyone wishing to share their local history, stories, and vintage/historic photos of their town, please contact us.

More Texas Towns | Texas Ghost Towns | Texas Hotels
Custom Search