The Hamilton post office mural depicts Texas rangers
TE photo
History in a Pecan Shell

Back in the 1870s there had been a Texas Ranger camp two miles northeast of present-day Ranger along Palo Pinto Creek. The Ranger visits gave it the place it's initial name of Ranger Camp Valley. It did indeed have the appearance of a camp since all businesses, including schools, churches and stores were inside tents.
Adam's Grocery and Market in Ranger
Photo courtesy Barclay Gibson April 2006
When the Texas and Pacific Railroad entered the valley in 1880, 160 acres were donated to the railroad and the community moved to establish the permanent town of Ranger. In the last few days of 1880, the town's new post office opened. Growth was slow but assured. BY the end of the 1880s Ranger had 350 people which grew to 750 by 1904.

The region suffered a drought in 1917 - just about the time the area's first oil well came in. With daily production measured at 1,700 barrels, this produced one of the largest (and some say the most archetypical) oil boom in Texas. The Texas Pacific Coal and Oil Company had 22 wells either in production or being drilled in 1919. No fewer than eight refineries were under construction or refining and with $5 million in deposits, banking was good in Ranger. The 1920 Census figures have given the population of Ranger as 16,201, but the tent cities and transient population made an acurate count impossible. Some estimates go as high as 30,000. Ranger received a second railroad with the arrival of the Wichita Falls and Southern and soon five trains a day were stopping at the boom town.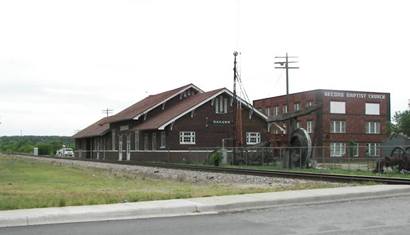 Ranger Depot and Second Baptist Church
Photo courtesy Barclay Gibson April 2006
Every silver-lining has its dark cloud and when the drought broke Ranger's dirt streets turned into a morass. Unsanitary conditions caused an outbreak of typhoid fever. An April fire in 1919, destroyed two downtown blocks. Naturally, the parasites descended on Ranger and violence, gambling and prostitution sprang up like the proverbial mushrooms.

The boom was short lived and while some in 1921 were hoping for new oil discoveries, a string of bank failures dashed all hopes. The 1930 population of Ranger (which was much easier to count than the 1920 census) was down to just 6,208.

After the bust, unrest and discontentment provided a strong base for the Ku Klux Klan. By 1980 Ranger had a population of 3,142 which has since declined to just under 2,600.

Book Your Hotel Here & Save
Ranger Hotels
Brick street view common in town.
Photo courtesy Mike Price, 2007
Ranger's Gholson Hotel by Don Champion
Excerpted from the book Wood Derricks, Iron Men and Gold Women

"The Gholson was the scene of many oil deals taking place during the oil boom, and scores of the famous and the infamous were found around the hotel lobby..." more

More Rooms with a Past

Book Your Hotel Here & Save
Ranger Hotels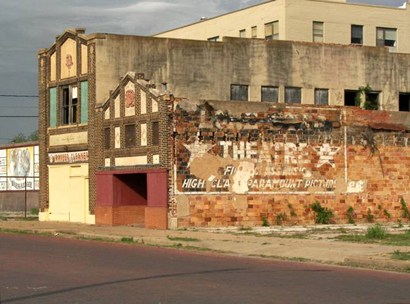 The Theatre in Ranger
"I was delighted to see the photos of Ranger in the October issue of TE. I wanted to share with you some information about the picture of the old theater. It was originally called the Lone Star and later became the Columbia. Its speciality was the Western. The old movie house has sat empty for years, but I understand that the local historical society has cleaned the inside up and has accumulated seats for the building in the future hope of making it a workable theater again. The roof is missing and that is the financial imperative for full restoration. Who knows? Maybe someday there will be a theater again in Ranger. - Billy Smith, October 21, 2007

More Texas Theatres

Book Your Hotel Here & Save
Ranger Hotels