Scotland City Limit
Photo courtesy Mike Price, September 2009
Photographer's Note:
A little over 400 people living mostly in a small part of a town covering several square miles, one historical marker, one church and cemetery, several interesting ranch or home drive entrances, and someone's huge collection of rusting old farm tractors pretty much sums up this town. The collection of tractors is impressive, unless you've seen the collection outside of Toco. - Mike Price, September 2009



History in a Pecan Shell

The town was not named after the country but for Canadian investor Henry J. Scott, who bought land and platted the town about 1907.

As a German Catholic community, the population was made up of farmers who transmigrated here from Central and South Texas. The town was connected to the outside world in 1908 when the Southwestern Railroad arrived from Henrietta and a post office opened that same year.

By 1910 the population was up to 600 and the railroad now connected Scotland to Archer City. Scotland entered a decline around 1920 when the railroad abandoned its tracks. Nearby oil discoveries failed to reverse the downward spiral but hopes were still high and the town managed to build a new school and auditorium in 1922.

There were only 316 people by the mid 1920s and that figure remained in place for years. With improved roads allowing residents to find jobs in Wichita Falls, the population declined to a mere 250 by 1950. The local school closed two years later.


In the mid 1960s Lake Arrowhead was conceived and as it neared completion workers and new landowners brought the population back up to 350.

Lake Arrowhead is owned by the City of Wichita Falls and provides their water supply. In 1970 Scotland was back down to only 145 people served by six businesses, but by 1990 it was up to 490. Scotland has since spread across the county line into Clay County and the 2000 population is back up to 438.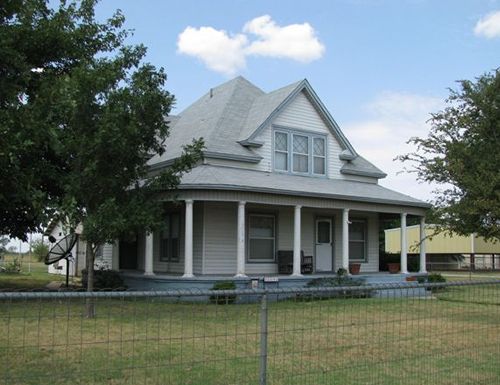 J. H. Meurer Home
Photo courtesy Mike Price, September 2009
Texas Escapes, in its purpose to preserve historic, endangered and vanishing Texas, asks that anyone wishing to share their local history and vintage/historic photos, please contact us.
Custom Search