In Jacksboro, even the ruins are picturesque.
Photo courtesy Barclay Gibson, April 2009
Jacksboro, Texas Topics of Interests:
History in a Pecan Shell

The Texas Emigration and Land Office started attracting settlers to the area in the mid-1850s. The area around Lost Creek formed a nucleus from which a community developed. A second site called Mesquiteville was made county seat in 1858 and then renamed to honor the Jack Brothers – veterans of the Texas Revolution.

Jacksboro received mail service in 1859 – even while the Butterfield Overland Mail was still in operation (Butterfield service was stopped by the Civil War in 1861).

Jacksboro was the westernmost settlement in Texas after the Civil War although it barely survived Indian raids and was in ruins. Fort Richardson was built just south of the town in 1870 – providing safety for the settlers that now numbered several hundred.

The Chicago and Rock Island Railroad arrived in 1898 and in 1910 a second railroad (the Gulf, Texas, and Western) built through the town.

In 1900 the population broke 1,000 and by 1930 it had almost doubled – many people brought in by the discovery of oil in nearby Bryson and Antelope.
Jacksboro, Texas Landmarks & Attractions:
West side square in Jacksboro, early 1900s
Photo courtesy texasoldphotos.com
The Edward Eastburn Building c. 1898
TE Photo, 2004
Eastburn Building
TE Photo 2004
More Rock Building On Square
Photo courtesy Barclay Gibson, April 2009
More Rock Building On the Square
Photo courtesy Barclay Gibson, April 2009
Fire Department On the Square
Photo courtesy Barclay Gibson, April 2009
Former Power Plant Walls Front View
Photo courtesy Barclay Gibson, April 2009
About Jacksboro Architecture

Jacksboro's square today shows that architects made an effort toward uniformity. Professor Henry, author of Architecture in Texas 1895-1945 uses the term "harmonious ambiance" to describe Jacksboro's blending of facades.
| | |
| --- | --- |
| Jacksboro buildings are also featured in Willard Robinson's Texas Public Buildings of the 19th Century. | |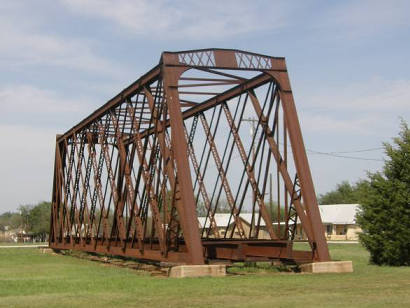 Historical Marker - at Courthouse west entrance, Jacksboro

Jack County

Created 1856. Organized 1857. Named for W. H. and P. C. Jack, brothers and patriots in the Texas Revolution. Butterfield Overland Mail, 1858-1861, had 3 stage stops in county. In 1861, Jack County voted against secession, 76-14. Most men fought in frontier units. Some were Confederates; others joined Federal army. Fort Richardson was established in 1867. In 1871 near Jacksboro, Kiowas massacred Warren Wagon Train teamsters. General of the Army W. T. Sherman, then at the fort, sent General Ranald S. MacKenzie, commander, to arrest the Indians. Chiefs Satanta and Big Tree were convicted in first non-tribal trials of Plains Indians in North Texas.

By 1875 MacKenzie's raiders had opened West Texas for settlement. A Corn Club founded in Jacksboro by County Agent Tom Marks on September 8, 1907, was the forerunner of the International 4-H Clubs. Fort Richardson, with 7 original buildings standing, is now a Recorded Texas Historic Landmark. Museum is open the year round.

Other attractions include circular high school building and old limestones on square, Jacksboro. Recreation centers about lakes, parks, campgrounds. Economy is based on agriculture, oil, cattle, sheep, and goats.
(1965)
Jacksboro Tourist Information
Jacksboro Chamber of Commerce
103-C South Main , Jacksboro Texas 76458
Mail: P.O. Box 606, Jacksboro Texas 76458
Telephone (940)567-2602
http://www.jacksboro-tx.com/

Book Your Hotel Here & Save
Decatur Hotels
More Hotels
Jacksboro Texas Forum
Subject: Some of the history of Jacksboro
Fifty years ago, the Owen family lived in Jacksboro. Eddie Owen owned an oil well servicing company. It was about the time of the celebration of the Jacksboro centennial. Grace Owen, Eddie's wife was sister of my father Leon Rankin. We lived in Antelope.

My mother Lucille Rankin wrote a column for the Jacksboro newspaper called Pops Eaten. It was a folksy bit with a lot of actual happenings in the surrounding area. People never did guess who the actual writer was.

The Owens children and my sister and myself are planning a reunion in Jacksboro in July to recall good old times of our youth... I do know that where the flower shop is now was a movie theatre where I saw my first Elvis Presly movie, and my grandfather told me that the Vines side of the family lived there during the time when the indians would still raid, and they would have to seek shelter at the nearby fort. - Ann Rankin Ordonez, May 14, 2006

Book Hotel Here > Graham Hotels | More Hotels
Texas Escapes, in its purpose to preserve historic, endangered and vanishing Texas, asks that anyone wishing to share their local history and vintage/historic photos, please contact us.
Custom Search