It's common knowledge that Howard R. Hughes Jr., the mysterious, multi-talented movie producer, pilot, inventor and entrepreneur from Houston never had to worry about where his next meal was coming from.

He grew up rich and inherited a fortune made by his father, the founder of Hughes Tool Co.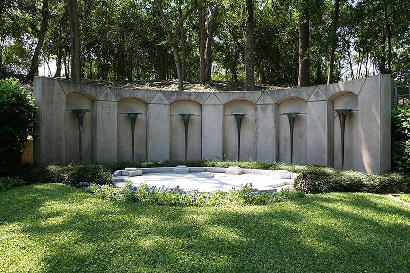 But how did Hughes Tool Co. evolve into an icon in industry?
The Goose Creek oil field at Baytown had something to do with it.

Legend has it that one dark night in 1909 Howard Robard Hughes Sr. sneaked into the oil field with business partner Walter Sharp and two other guys. The fearless four wore working clothes, disguised as roughnecks.

The purpose of this clandestine operation was to test an oil tool – a rolling bit -- that Hughes had invented. Certain his invention would revolutionize the industry, Hughes didn't want any curious competitors nosing around.

The erstwhile roughnecks took their places on a rig floor. Hughes carefully unlocked a wooden box and lifted out a burlap-wrapped "secret weapon." He attached it to a drilling item and pulled the wrapping away as they lowered it into the hold.
In his book, "Early Texas Oil," Walter Rundell Jr. described the invention as a rolling bit with two cones with unevenly spaced teeth.

"Because the conical bit could drill a straight, round hole quickly and efficiently," Rundell wrote, "it was vastly superior to the older fishtail bit. The latter would wear rapidly because rocks dulled its cutting edges."

The test in the Goose Creek oil field far exceeded all expectations and marked the beginning of the cone bit industry.
Forming the Sharp-Hughes Tool Co., the two partners set out to manufacture and sell this new item.

Before Sharp died in 1913, Hughes bought out the business and in 1915 renamed it the Hughes Tool Co.

His early advances in rotary drilling technology gained wide attention and put Houston on the map as the world's leading manufacturer of drilling equipment.

By 1917 he had improved the original cone bit, making it more efficient and less costly. Hughes also is credited with the invention of other drilling services that saved time and money.

In addition, he did his part during World War I, creating a tunneling machine to drill from Allied trenches to German territory.

This extraordinary man died on Jan. 14, 1924, at the age of 54, when his only son was a student at Rice.

Along with the company store, Howard Robard Hughes Jr. inherited the patent rights to his father's most famous invention, the basis of their financial empire.

We're referring, of course, to the cone bit that made history in the Goose Creek oil field.

Back then, in 1909, Howard Robard Hughes Jr. was a 2-year-old toddler and could not have grasped the significance of his father's trip to the oil field in the middle of the night.
When Senior left their home in Houston that night, Junior must have been in bed asleep.

If he woke up and asked mommy where daddy was, she probably told him he was working late, as usual. ("Hush, little Howie. Go back to sleep.")

Most likely, Mrs. Hughes didn't know where her husband had gone.

Apparently, he was a secretive, private person as well as imaginative, creative, innovative.

Some called him a man ahead of his time, a visionary, a dreamer, an explorer.

Hmmmm…

Could it be that Howard Robard Hughes Jr. inherited much more than mere money from his father?


© Wanda Orton
Baytown Sun Columnist
"Wandering" December 2, 2012 columns

Related Topics: Baytown | Houston |
Texas Town List | People | Columns | Texas | Texas Hotels |
Texas Escapes, in its purpose to preserve historic, endangered and vanishing Texas, asks that anyone wishing to share their local history, stories, and vintage/historic photos, please contact us.
Custom Search
Book Hotel Here - Expedia Affiliate Network