GUSSIE NELL DAVIS

by Archie P. McDonald
Football season in East Texas—or any part of Texas—brings communities together, and one reason is that the "players" no longer involves just the football team.

It is also the principal season for cheerleaders, and, because of Gussie Nell Davis of Kilgore College, for more than half a century it is the season for drill teams.

Davis was born on November 4, 1906, in Farmersville, Texas. She attended public schools there and was graduated from the College of Industrial Arts (now Texas Woman's University) in 1923 with a degree in physical education, and a master's degree from the University of Southern California in 1938. Davis began teaching women's physical education classes at Greenville High School in 1928. She founded the Flaming Flashes, the first dance-drill team in the nation. Other schools previously featured female drum-and-bugle corps marching groups, but Davis introduced precision dance routines.

President B.E. Masters of Kilgore College, Kilgore Texas, asked Davis to "find a way to keep people in their seats at halftime" during football games. Davis then organized the Kilgore Rangerettes, a drill/dance team similar to Greenville's Flaming Flashes.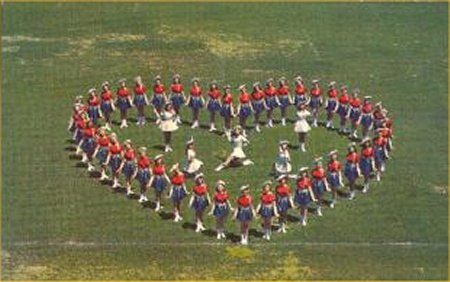 Kilgore Rangerettes in the 1960s
Postcard courtesy www.rootsweb.com/ %7Etxpstcrd/
Davis was a born leader who knew how to draw on the talents of others to succeed. For example, Denard Hayden, who operated a dance studio and school in Nacogdoches, became Davis' choreographer and Hazel Stewart the group's accompanist. Assistants Peggy Coghlan, Barbara Harmon, and Deana Bolton, and sponsor L.N. Crim, were each crucial to the Rangerettes' success.

The Rangerettes performed for the first time in 1940 and Davis remained their director until her retirement in 1979 and their godmother until her death in 1993. Dressed in Western style hats and red, white, and blue costumes two inches above the knee—still a bit daring in 1940—the Rangerettes became a hit and then an institution.

They continued to appear at Kilgore College's football games at halftime and also games of other, larger universities, international conventions of Lions and Rotary clubs, and especially in parades and college bowl games.

The Rangerettes have appeared on the cover of many major magazines, including Life Magazine and even the Paris Match. Soon other colleges and high schools established drill teams, and participation by co-eds at those institutions became a real prize.

Davis' group received some criticism from women's rights activists for, they alleged, she emphasized physical beauty in selecting recruits, which resulted in a lineup of "Barbie dolls." Davis believed that the discipline and devotion required of a Rangerette built confidence and poise in her young women that prepared them for challenges of life beyond college.

Gussie Nell David died in Kilgore on December 21, 1993, and was buried in Farmersville.
Books by Archie P. McDonald - Order Here

Primary Source Accounts of the Civil War