Texas State Capitol and Goddess of Liberty
Vintage Photo Courtesy Texas State Library And Archives
Historical Marker Text
The Texas Capitol
Austin became the capital of Texas Jan. 19, 1840, and this hill was platted as Capitol Square. A modest statehouse built here in the 1850s soon developed structural flaws. The Constitutional Convention of 1876 set aside 3,000,000 acres of public land to finance another building. This was authorized after the 1850s capitol burned on Nov. 9, 1881.

Architect E.E. Myers of Detroit won a national competition with his plans for this capitol. The contractor was Mattheas Schnell of Rock Island, Ill. Basement excavation began early in 1882. Railroads built especially for this project hauled limestone from the Oatmanville quarries in Travis County as well as stone donated by the owners of the Granite Mountain in Burnet County. The 900 workmen on the project included 86 granite cutters brought from Scotland. Charles B. and John V. Farwell, Chicago bankers, funded the construction and were repaid in land in ten Panhandle counties, on which they founded the famous XIT Ranch.

At dedication ceremonies on May 18, 1888, the capitol was accepted on behalf of the people by state senator Temple Houston, son of Texas hero Sam Houston. He called it "a structure that shall stand as a sentinel of eternity."
(1976)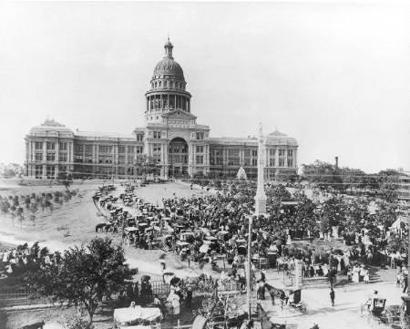 Texas State Capitol - Dedication Of Fire Fighters Monumnent
Vintage Photo Courtesy Texas State Library And Archives
Texas State Capitol Building during construction
1886 Photo Courtesy Texas State Library And Archives
Texas State Capitol - Elijah Meyers Blueprint
Photo Courtesy Texas State Library And Archives
Texas State Capitol Dome Under Construction
Photo Courtesy Texas State Library And Archives
Texas Capitol Dome
TE Photo, 2004
Texas Capitol Capital
TE Photo, 2004
Texas Capitol Clock
TE Photo, 2004
Texas Capitol Columns Details
TE Photo 2004
Texas Capitol Cornerstone
TE Photo
Texas Capitol Cornerstone - Left Side Inscription
"Commenced Feb 1, 1882"
TE Photo
More Texas Cornerstones
Texas Capitol Dome Looking Up
TE Photo, 2004
Texas Capitol Interior - People In Line
TE Photo, 2004
Texas Capitol Interior - Wooden Capital
TE Photo, 2004
Texas Capitol In Scaffolding
TE Photo, August, 2010
Capitol Building Vintage Postcards
Birds Eye View of Austin with distant voiew of the Capitol
Postcard courtesy www.rootsweb.com/ %7Etxpstcrd/
Congress Avenue showing the Capitol building
Postcard courtesy www.rootsweb.com/ %7Etxpstcrd/
Congress Ave, Austin, Texas, From Dome of Capitol
Postcard courtesy www.rootsweb.com/ %7Etxpstcrd/
Capitol At Night
Postcard courtesy www.rootsweb.com/ %7Etxpstcrd/
Texas State Capitol Related Stories:
The State Capitol Dome Mike Cox
Land Commissioner W.C. Walsh had been watching the construction of the new Capitol since the first shovel of dirt was tossed on Feb. 1, 1882... As the new Capitol slowly took shape, so did Walsh's layman's knowledge of architecture. Now, with construction about to begin on the dome, Walsh grew increasingly uneasy...


Rusk's Capitol Role by Bob Bowman
This month, Texans will quietly celebrate the 117th anniversary of the completion of the Texas Capitol in Austin.

But, as in past observances, there will be little acknowledgment of the role that East Texas, especially the town of Rusk, played in the capitol's completion.


Goddess of Liberty
The statue that sits atop the Capitol in Austin is something of a mystery.

Book Hotel Here > Austin Hotels
"Austin became the capital of Texas Jan. 19, 1840, and this hill was platted as Capitol Square. A modest statehouse built here in the 1850s soon developed structural flaws. The Constitutional Convention of 1876 set aside 3,000,000 acres of public land to finance another building. This was authorized after the 1850s capitol burned on Nov. 9, 1881..." - from Historical Marker

See
Capitol No. 1 by Mike Cox
The story of a civil engineer from San Antonio who earned less than the value of a good mule for designing a new capitol for Texas...
The Fire in the State Capitol by Mike Cox
Old Capitol during the funeral of Gov. Andrew Jackson Hamilton, April 12, 1875. He was a known Union sympathizer. Hamilton Pool in Austin is named after him.
Original Capitol building as it appeared after it burned on Nov. 9, 1881.
First Texas State Capitol Building
Vintage Photo Courtesy Texas State Library And Archives
Custom Search
Book Hotel Here - Expedia Affiliate Network