"The Old Brazos River Bridge from Farm Road 56. (Johnson Co.) Not far from Eulogy, TX and Brazos Point, TX."
Photo courtesy Paula Mc Michael Athey, April 02, 2007
History on a Pinhead

In the late 1850s business partners Charles W. Smith and Tom Willingham saw the Brazos River and saw opportunity. They built a gin, mill and store for their own interests and in 1860 a school was built followed by the Brazos Point Community Church nearby. The community was granted a post office in 1873 and the 1880s seems to have been the town's high-water mark. The population reached 200 and besides the gin, store and gristmill, they gained their very own physician. But a few years later (1896) the population had declined to 75 and the post office had closed its doors.

The community moved to FM 56 and in 1914 the county contracted with the Austin Bridge Company to erect a bridge across the Brazos (which still stands alongside a modern bridge). The population was estimated at only 50 from 1933 through WWII. No figures were available after 1947.
The bridge plaque showing date 1914 and names
Photo courtesy Paula Mc Michael Athey.
More Texas Bridges
"This is my mother Trixie Mc Michael at the Old Bridge ... not far from Brazos Point on Farm Road 56. This picture was taken in the 1930's." - Paula Mc Michael Athey.
Brazos Point, Texas Forum
Subject: Brazos Point
"The Old Man's Place"

My brother H.L. Stephenson and his wife Denise first took me to Brazos Point back in 1970. We all called it "The old mans place," for the old farmer who lived there. He ran a campground right on the river called Braden's Camp. It was just to the left as you passed over the bridge head'n toward Walnut Springs.

For three dollars you could camp all week (and probably not see anyone else). When I reached driving age it was a favorite destination of mine. I would take friends and camp all weekend or longer. Sometimes I'd take a date for a picnic there. It never failed. Everyone loved the old bridge, the river, and the old man's camp. I have slept under the bridge on a sand bar and made coffee from Brazos river water. I camped with friends and loved ones, some of whom are now gone or I have lost touch with. My best dog Buzzard loved it also. I could say to her "Wanna go to the river?" and she'd start danc'n. When we got there she'd run and play for hours, trying to bite us on the rear as we jumped in the water. I remember her plum tuckered out with a sunburn on the tip of her nose laying by the campfire.

We'd go every weekend during the summers, and sometimes we'd camp in winter. Buzzard and I went the most, just the two of us. Brazos Point has changed, the old man has passed on and his camp is no more. A new, ugly bridge has been built right beside the original. Buzzard has been gone for about 15 years now. I have my memory and lots of pictures and a rock that I carried up from the river floor when my wife and I were dating. It is in the shape of a triangle and must weigh well over 100lbs. It's right out the back door of my house for the last 25 years. I can place my hand on it and I'm almost there. - Don W. Stevenson, July 16, 2007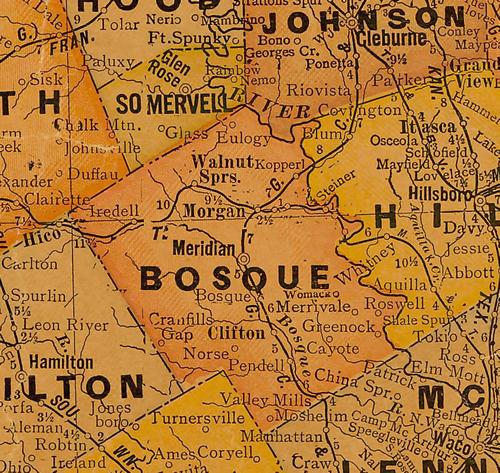 Texas Escapes, in its purpose to preserve historic, endangered and vanishing Texas, asks that anyone wishing to share their local history, stories, landmarks and recent or vintage/historic photos, please contact us.