CLEBURNE, TEXAS
Johnson County Seat, North Central Texas
Junction of US 67 and Hwy 171 and 174
51 miles SW of Dallas
30 miles S of Fort Worth
Population 26,005(2000) 22,205(1990)

Cleburne Topics of Interest
History in a Pecan Shell
Cleburne started life as a crossroads with the east west road once connecting the forts of Graham and Belknap and the north/ south road being not far from the famous Chisholm Trail.

It was a mustering point for troops joining the Confederacy and was first known as Camp Henderson. It became a permanent settlement and after the Civil War was chosen to be the Johnson County seat of government (after Wardville and Buchanan failed to meet the state criterion of being centrally located. The town was renamed after Patrick R. Cleburne, a Confederate General and became Johnson County's third seat.

Although the 1870 census counted less than 700 residents, in 20 years it had grown to nearly 4,000.

The Gulf, Colorado and Santa Fe Railroad arrived in 1881, joining Cleburne with Temple and in 1887 a second line connected to Weatherford.

With the construction of a roundhouse and machine shops for the Sante Fe Railroad in the 1890s, Cleburne's status rose to new heights. It later served as a stop on the Fort Worth Interurban.

A railroad worker's strike in 1922 forced the governor to call in Texas Rangers to keep order in the city which was then home to nearly 13,000 people.

Cleburne benefited from the postwar growth of nearby Fort Worth. Over the years a slow but steady growth resulted in a 1990 census count of over 22,000 residents.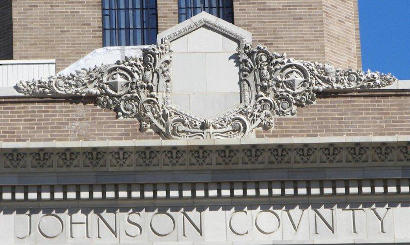 Cleburne Landmarks/Attractions
The Layland Museum - Formerly the Carnegie Library

Historic Homes Tour - Several 1800s homes have been restored and are open for the Candlewalk Historic Home Tour - Second Saturday in December
Cleburne State Park
12 miles SW of Cleburne. US 67, Park Rd. 21.
Admission. 800-792-1112
http://www.tpwd.state.tx.us
Acton State Historic Site
Located in Hood County
Texas' smallest state park - with a cemetery.
c/o Cleburne State Park
5800 Park Rd 21
Cleburne TX 76031
817/645-4215
http://www.tpwd.state.tx.us
Johnson County Centennial Marker
2nd and Hillsboro Street, Cleburne City Park, Cleburne
Photo courtesy Barclay Gibson, October 2009
Site of Old Picnic Grounds Historical Marker
Photo courtesy Barclay Gibson, September 2010
Santa Fe Shops
Postcard courtesy www.rootsweb.com/%7Etxpstcrd/
See Texas Railroads
1914 bird's eye view of Cleburne, Texas
Postcard courtesy www.rootsweb.com/%7Etxpstcrd/
East Henderson Street Baptist Church
Postcard courtesy www.rootsweb.com/%7Etxpstcrd/
Main Street M.E. Church, Cleburne, Texas
Postcard courtesy www.rootsweb.com/%7Etxpstcrd/
More Texas Churches
Esquire Theatre in Cleburne
July 1985 photo courtesy Billy Smith
Cleburne Texas Forum
The Esquire Theater of Cleburne
MY NAME IS MIKE RAY HARTMAN. I WAS BORN AND RAISED IN FORT WORTH. SINCE 1986, I'VE BEEN A RESIDENT OF JOSHUA. WHEN OUR CHILDREN (BOTH GROWN NOW) WERE YOUNGER, WE USED TO GO TO THE ESQUIRE AND SEE MOVIES FOR A $1.00, OR A $1.50...FROM MAYBE THE LATE 80'S THROUGH THE EARLY 90'S. ONE OF MY LIFELONG DREAMS WAS TO BE A SINGER. SOME-TIME, IN THE EARLY 90'S, THE ESQUIRE BECAME AN "OPRY". I WENT THERE, ONE NIGHT, TO AUDITION. I REMEMBER SEEING A MAN NAMED NORMAN ABBOTT, SOMEONE I HAD GONE TO THE SAME HIGH SCHOOL WITH (TRIMBLE TECH, FORT WORTH). HE WAS THEIR STEEL GUITAR PLAYER. NOT TOO LONG AFTER THE AUDITION, I HEARD FROM A FRIEND AT WORK THAT THE ESQUIRE HAD CLOSED. FORTUNATELY FOR ME, THE MANAGER OF A SMALLER OPRY, IN OCEOLA, WAS PRESENT DURING MY AUDITION, AND CALLED ME TO SING AT HIS PLACE. I DO, HOWEVER, WISH I COULD'VE SANG AT THE ESQUIRE. THOSE OLD THEATRES HAVE SO MUCH ATMOSPHERE, AND GREAT ACOUSTICS, TOO. AS YOU KNOW, THE ESQUIRE LATER BECAME A CHURCH. I HOPE THAT CHURCH WAS ABLE TO RELOCATE TO ANOTHER BUILDING, AFTER LEAVING THE ESQUIRE. IT SADDENED ME TO SEE THE THEATRE DEMOLISHED. ON A PERSONAL NOTE...I AM FULFILLING MY LIFELONG DREAM. I RETIRED FROM GENERAL MOTORS, IN JUNE 2006, AFTER 36 YEARS SERVICE. A LITTLE OVER A YEAR BEFORE THAT, I PURCHASED A PORTABLE SOUND SYSTEM, A CD PLAYER, AND BACKGROUND TRACKS. MY SPECIALTY BECAME MY FAVORITE MUSIC, 50'S AND EARLY 60'S ROCK AND ROLL...WITH A LITTLE COUNTRY. SINCE JULY, OF 2005, I HAVE BEEN THE THURSDAY NIGHT REGULAR ON THE GRANBURY RIVERBOAT. I HAVE PERFORMED AT NEARLY ALL THE "OPRYS", HERE IN THE DALLAS/FT.WORTH, AND SURROUNDING COUNTIES AREA. I ALSO SING AT FESTIVALS, RESTAURANTS, PRIVATE PARTIES, NURSING HOMES, RETIREMENT COMMUNITIES, ETC. MY WIFE OF 31 YEARS(AND STILL GOING) MANAGES ME AND ALSO RUNS THE SOUND. I APOLOGIZE FOR GETTING A LITTLE "LONG WINDED", ON THIS E-MAIL. IT WAS A JOY FOR ME TO SHARE THIS WITH YOU. I HOPE I DIDN'T BORE YOU. LONG LIVE OUR TEXAS THEATRES...AND I WISH THEY WOULD QUIT TEARING THE DARN THINGS DOWN !! THANK YOU. - MIKE RAY HARTMAN, Joshua, Texas, December 05, 2006

Book Hotel Here:
Cleburne Hotels | More Texas Hotels
Custom Search
Book Hotel Here - Expedia Affiliate Network