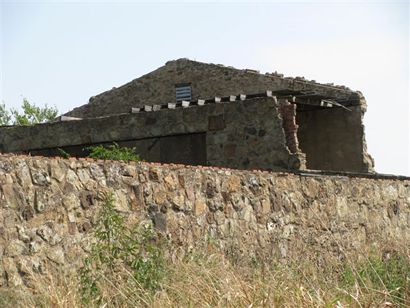 History in a Pecan Shell

Settlement began during the Civil War when the absence of men created a serious Indian threat. Twenty-five families attempted to start a community here in 1864, but were hit by a devastating drought. The settlers moved to more hospitable regions and the site sat uninhabited for fourteen years.

Finally, Brothers C. O. and J. Q. Burnett settled near the ruins of the would-be town, naming it after the creek of the same name.

A post office was soon granted and the community grew to 200 residents by the mid 1890s. The next figures available (1914) showed a decline to 125, and falling below that in the mid 1920s.

The post office closed in the mid 1950s, but Buffalo Springs continues to be on the map. Population fell to 60 by the mid-1960s.

Buffalo Springs Historical Marker
Buffalo Springs 1936 Centennial Highway Marker
Markers on the junction of FM 174 and FM 3077
Photo courtesy Mike Price, September 2009
1936 Buffalo Springs Centennial Highway Marker
Photo courtesy Mike Price, September 2009
1936 Buffalo Springs Centennial Marker
"A landmark as early as 1849. Watering place for buffalo hunters. Site of a proposed permanent United States Army post, July, 1867. Abandoned due to lack of water and timber, November 19, 1867, and Fort Richardson on Lost Creek was established instead, November 26, 1867. Served as a stage stand and camp ground between that post and Fort Sill. Scene of battle, July 12, 1874, between Indians and George W. Stevens, Captain of Texas Rangers."
Buffalo Springs Historical Marker
33.556475,-98.139856
Photo courtesy Mike Price, September 2009
Historical Marker
Buffalo Springs C.S.A.
"On line of sentry forts along Red River and far frontiers of North Texas, 1861-1865. Used at intervals by cavalry, especially at such times as 1864 massing of 3,000 federals to the north, in Indian territory. Soldiers here saw little of war's glory, had large share of fighting and shortages of guns, ammunition, food, clothing and horses.

Site of "forting up" of families wishing to stay, with goods and stock, near frontier homes; lived in picket houses in fortified square, placing guards on water or wood gathering parties; in 1862 left during water famine."
Texas Escapes, in its purpose to preserve historic, endangered and vanishing Texas, asks that anyone wishing to share their local history, stories, landmarks and recent or vintage photos, please contact us.