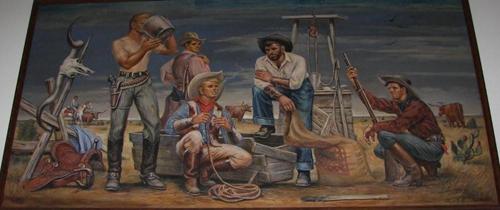 History in a Pecan Shell

In 1870 the Texas legislature voted on a bill for the creation of Delta County. One of the sponsors for this bill was L. W. Cooper of Houston and it was Cooper the county seat was named after. The town was granted a post office the following year and Cooper incorporated in 1881. The population in 1885 was 300.

Further growth was enhanced by the construction of the Texas Midland Railroad. By 1896 Cooper had an estimated population of 1,000 with two churches and all the essential businesses a growing town needed including two feed mills, two cotton gins, two blacksmiths and two weekly newspapers. The town also supported an unheard of (even for a county seat) seven general stores. Since the rest of Delta County was made up of smaller towns, Cooper's growth continued for years. Its high-water mark was reached in 1925 when 2,563 people called the town home.

The population predictably declined during the 1930s, grew somewhat after WWII and underwent another decline in the 1980s. It reached 2,349 in the early 50s and went nearly unchanged for the next 20 years (2,258 in 1970).

The former railroad depot is now in use as the Delta County museum.

Cooper, Texas Landmarks / Attractions ›
Cooper Chronicles ›
---
Cooper, Texas Landmarks/Attractions
Three Photographers' Visits
Bright and Early Coffee and Tea
Photo courtesy Barclay Gibson, April 2009
"The roads around the old courthouse square in Cooper are paved with red brick. The current courthouse is actually one block west of the square. This gazebo sits on the foundation of the 1900 courthouse."
- Terry Jeanson, June 2007
---
Cooper, Texas Chronicles:
The Smith Brothers
by Bob Bowman ("All Things Historical")
Four brothers from Delta County lived with an ordinary name in the mid-1800s, but they were far from ordinary... In 1968, the Texas Historical Commission erected a state historical marker to the Smiths' legacy on a site three and a half miles west of Cooper beside Texas Highway 64.


---
Texas Escapes, in its purpose to preserve historic, endangered and vanishing Texas, asks that anyone wishing to share their local history, stories, landmarks and recent or vintage photos, please contact us.