The Oak-Hickory Historic District
Silk Stocking Row - In the Oak-Hickory Historic District

Hanger 10 Flying Museum
On Wright Lane at the Denton Municipal Airport
Denton County Historic Iron Bridges
Denton Hotels > Book Your Hotel Here & Save

Denton Chamber of Commerce
414 Parkway
1-888-381-1818
www.denton-chamber.org
The chamber of commerce stocks two pamphlets by the Denton County Historical Museum worth stopping for. One is Historical Markers in Denton County and the other is A Guide to Denton County Cemeteries.*

Denton Hotels > Book Your Hotel Here & Save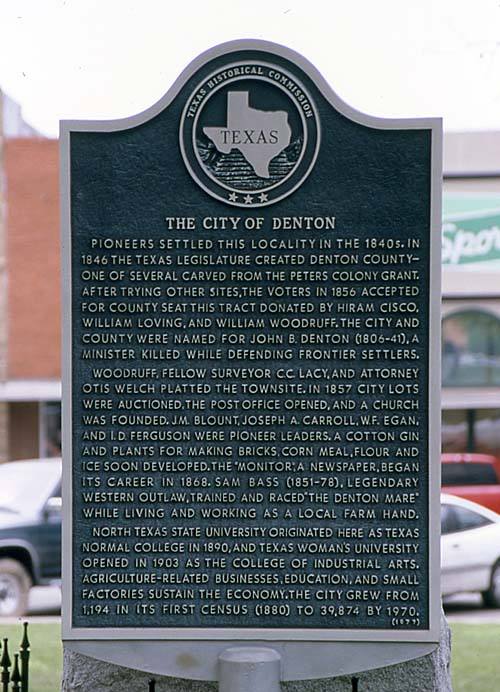 The City of Denton Historical Marker Text:
Pioneers settled this locality in the 1840's. In 1846 the Texas Legislature created Denton county -- one of several carved from the Peters Colony grant. After trying other sites, the voters in 1856 accepted for county seat this tract donated by Hiram Cisco, William Loving, and William Woodruff. The city and county were named for John B. Denton (1806-41), a minister killed while defending frontier settlers. Woodruff, fellow surveyor C. C. Lacy, and attorney Otis Welch platted the townsite. In 1857 city lots were auctioned, the post office opened, and a church was founded. J. M. Blount, Joseph A. Carroll, W. F. Egan, and I. D. Ferguson were pioneer leaders. A cotton gin and plants for making bricks, corn meal, flour and ice soon developed. The "Monitor," a newspaper, began its career in 1868. Sam Bass (1851-78), legendary western outlaw, trained and raced "The Denton Mare" while living and working as a local farm hand. North Texas State University originated here as Texas Normal College in 1890, and Texas Woman's University opened in 1903 as the College of Industrial Arts. Agriculture-related businesses, education, and small factories sustain the economy. The city grew from 1,194 in its first census (1880) to 39,874 by 1970.


History in a Pecan Shell

County and town were named after preacher and Indian fighter John B. Denton who was killed in 1841 at the Battle of Village Creek.
1857: the town was founded

1864: the first newspaper - The Denton Review is published

1866: town is incorporated

1881: both the Texas and Pacific and MKT railroads enter Denton

1884: first public school is opened

1890: North Texas Normal College opens - later becomes the University of North Texas

1903: Texas Women's University started life as The Girl's Industrial College
Today the two universities make up half of the town's population.

1960: The Denton State School opens
Denton Chronicles
Leon Breeden by Bill Cherry
The Man from Oklahoma and Jazz: They Brought Academic Notoriety to a Podunk Teachers College.
Leon Breeden and his One O'clock Lab Band
The Great Airship Mystery by C. F. Eckhardt
On April 13, 1897, in Denton, a man 'stargazing' with a pair of powerful field glasses spotted a dark object against the moon. At first he assumed it was a meteor that had not yet hit earth's atmosphere, but then realized it was moving much too slowly. He described the object as being about fifty feet long, cigar-shaped with two large 'mugs' sticking out from either side, a 'beak' like a ship's cutwater at the front, and a large rudder or steering sail at the rear. Where the 'beak' joined the main body of the object there was a light that 'paled the moon' in its brilliance. Along the body of the thing there were more lights, which he assumed meant windows. No smoke was visible from the object. It moved slowly, in a southeasterly direction, for about twenty minutes, then accelerated 'to terrific speed' and vanished from sight. The sighting was confirmed by a lady in Denton...
Denton Texas Forum
This is a fantastic website and am thrilled to find it. Will share it with friends and others, however, you have left out one of the best "visits" one can make during your visit to Denton.

The Denton County Historical Museum Inc (established in 1979 in courthouse) moved in 1998 to the Denton Factory Mall on I35 North exit 470. This museum is the one which created and published the two brochures you mentioned about the Historical Markers and Cemeteries of Denton County. This museum sold the name Courthouse on the Square Museum to Denton County which the county now uses for its "county department" created after the Denton County Historical Museum left the courthouse taking its collection of history, 50,000 photographs of 1950s, historical family history files including photographs 1800s forward, Denton County genealogy, wonderful local history library, exhibits and knowledgeable staff with it. Hunt Oil company provides the space for the Denton County Historical Museum. The gift shop has local items and books for sale. Housed in the same open Mall is a 350 dealer antique mall and other shops to round out the visit. The North Texas Area Model Railroad Club has a display in one of the areas and is manned each Saturday from 10:00 am to 6:00 pm The Denton County Historical Museum Inc furnishes maps, family history information and has a massive cemetery card file with additional notes which is one of a kind. This museum is noted for its county and regional history and its employees and volunteers who go the extra mile to help visitors. The tel number is 940 380 0877 I am among the long time and strong supporters of the museum. - GG, March 14, 2002

Texas Womans University houses the DAR Museum of Texas Governor's wives' inaugural gowns. They are displayed publicly with free parking and no fee to see. The local DAR chapter gives tours etc.

*The brochures you mentioned about the Cemeteries and the Historical Markers were done by the staff of the Denton County Historical Museum, Inc and their old information is on the brochures. The Senior Citizen Volunteers operate this wonderful facilities. Thanks. - GG, March 14, 2002