Church steeple and Water tower in Kosse

TE Photo June 2001
History in a Pecan Shell

Kosse was named for Theodore Kosse, chief engineer for the Houston and Texas Central railroad. Kosse also surveyed the town when the railroad arrived in 1869.

In the 1840s, long before the railroad arrived, the town of Eutaw was two miles west of present day Kosse near Duck Creek. Eutaw was connected to the outside world ( Franklin, Marlin and Waco) by stageline. With the arrival of the railroad, businesses moved to Kosse from Eutaw and even the post office relocated in 1870.

In 1871, now that they were distinctly a town proper, a town government was installed. In 1880 there were 500 Kosseans (Kossites? Kossacks?) - a respectible population for a town that still had the bloom of youth. The town not only had the railroad, but a newspaper as well.

By 1885, Kosse was thriving with two sawmills, three gristmills, and several cotton gins. Kosse also had the first brickworks in the county, a boon enterprise since it brought in cash from smaller towns needing brick. The clay deposits were such that they caught the eye of an Englishman who opened a ceramics works in 1870.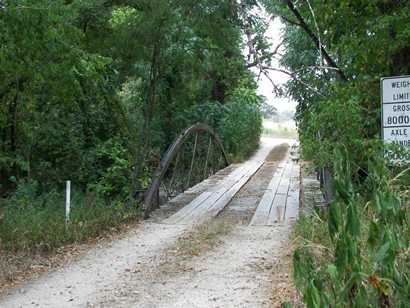 Big Elm Creek Bridge on CR159 NW of Kosse
Photo courtesy Barclay Gibson, August 2006
First Methodist Church
Photo courtesy Barclay Gibson, August 2005
First Baptist Church
Photo courtesy Barclay Gibson, June 2005
Ebenezer Church East of Kosse
Photo courtesy Barclay Gibson, June 2005
Photo courtesy Barclay Gibson, August 2005
Land was donated for a school by 1884, and by 1892-93 Kosse became an ISD with two schools. By 1914 the town was only up to 700 people, but it more than doubled by 1928. The 1,500 people enumerated that year marked the town's high-water mark.

The decline began predicably with the onset of the Great Depression and eventually Kosse schools consolidated with the Groesbeck ISD.

Book Your Hotel Here & Save
College Station Hotels
More Hotels
Kosse, Texas Forum
Anyone wishing to share history or photos of Kosse, Texas, please contact us.

© John Troesser
More photos by Barclay Gibson