Men drinking from hot artesian spring in Marlin, circa 1920
Old postcard
History in a Pecan Shell
The town was named after early settler John Marlin, the County after the falls of the Brazos River. County was originally part of Milam and Limestone.

A hot artesian spring was struck by accident in 1893 and the town became known for its curative waters. This was the era of health awareness (people became aware of how little they had) and what better excuse was there for leaving home, than "taking the cure" in Marlin? Even today you can drink from a fountain from that era, right next to the Chamber of Commerce Office. You can soak your feet too, and they've thoughtfully provided a separate facility for that purpose. Water has a tendancy to purge and locals have timed it's effects at 43 minutes.
Marlin Landmarks / Attractions: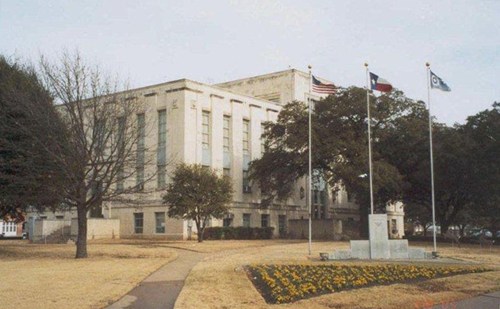 The Falls Hotel, Conrad Hilton's Eighth

"I guess you know the history of this famous old hotel in Marlin. It had a tunnel going to a bathhouse across the street. The bathhouse is gone and the tunnel has been blocked off.

During the depression I stood on the sidewalk just to the left of the entrance way shelter and watched a "human fly" scale the wall. I don't know how high he climbed because I couldn't stand to watch the full ascent. I believe the only thing he received from his daring act was the net proceeds from a passed hat. I heard that he told someone when it was all over that the biggest danger he faced was starving to death." - George Lester, May 18, 2004
Palace Theater &
Palace Café
The Movies in 1930s Marlin :
A memoir by George Lester
Hamburgers at the Café were a nickel or a dime - depending on who was eating them. more

Left top - Fall Hotel today.
Photo courtesy George Lester, 5-2004
Left middle - Fall Hotel
Old post card, TE archive
Left bottom - Palace Theatre ,
TE photo 2003
Marlin historic downtown has many antique sources
Falls on the Brazos Park has canoeing, camping and fishing ( Any Marlins caught must be released).

Brick Collectors can find Marlin Bricks at downtown antique stores.

The Falls County Historical Museum
Hour: Mondays and Fridays 1-4 P.M.
Phone: 245-883-910.

Falls County is also home to Rosebud and Spunky Flat. (See Falls County Towns & Ghost Towns.)
Blue Ridge Baptist Church in SE Marlin
Photo courtesy Barclay Gibson, August 2005
St. Paul's United Church Of Christ north of Marlin
Photo courtesy Michael Baxter, 2007
Photo courtesy Larry W. Johnson
Marlin, Texas Tourist Information
Marlin Chamber of Commerce - 254-883-2171
245 Coleman St.
Website: www.marlintexas.com
Texas Escapes, in its purpose to preserve historic, endangered and vanishing Texas, asks that anyone wishing to share their local history and vintage/historic photos, please contact us.
Custom Search