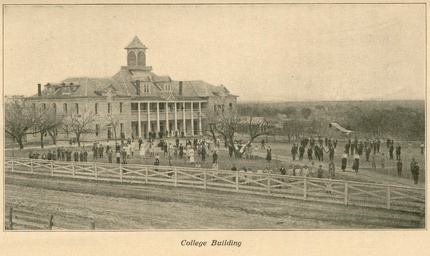 History in a Pecan Shell
The town's namesake is said to be Pleasant Thorp who settled in the region prior to the Civil War. Hostile Indians discouraged settlement until the early 1870s. In 1871 Sam Milliken purchased part of the old Thorp homestead and built a cotton gin. Since medicinal springs were in fashion, Milliken also built a resort hotel and touted the nearby springs.

In 1873 Mr. Clark and his two sons Addison and Randolph opened Add-Ran College (later to become Add-Ran Christian University which later evolved into Texas Christian University).

The town got a post office in 1893 and the population soon reached 400 - reaching a peak in 1904 just short of 500.

Thorp Springs Christian College replaced Add-Ran College in 1910.

Its bright future was dimmed in the early 1890s when it was bypassed by not one, but two railroads. Still, the town maintained a 400-plus population through the 1960s. The last three businesses closed and in 1990 it reported 184 residents - the same figure they've been using ever since.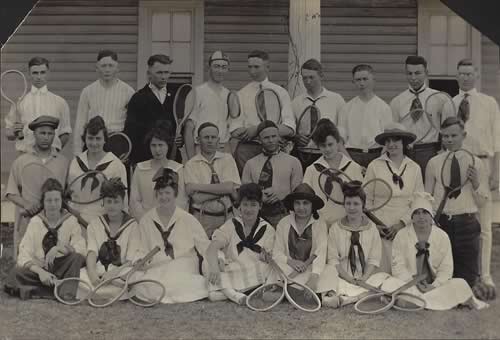 T.S.C.C. Tennis Club, 1917-1918
Click on image to enlarge

"Sadly, none of the people are marked. This is from my grandmother's (Lura Underwood-McCarty of Paluxy, TX) scrapbook, dated 1917 to 1918 when she attended Thorp Springs Christian College. She is not in the photo, and must be the photographer. - Linda Susan McCarty, Chicago, January 31, 2020
---
From
Thorp Springs Christian College 1914-1915 yearbook:

"Thorp Spring is in Hood County, three miles north of the county seat, Granbury, and about forty miles southwest of Fort Worth. Granbury is on the Frisco road, which has double daily passenger train service to and from Fort Worth and Brownwood.

... The village of Thorp Springs is made up of school people. Practically everybody here is here for the school, and there is the most complete cooperation between all the citizens and the school authorities. There are no questionable outside attractions. All entertainment are school affairs. In fact, life in our village is school life..." more
---
---
---
1920s Hood County map showing Thorp Spring
NW of Granbury the county seat
From Texas state map #10749
Courtesy Texas General Land Office
Texas Escapes, in its purpose to preserve historic, endangered and vanishing Texas, asks that anyone wishing to share their local history, stories, landmarks and recent or vintage photos, please contact us.