The term "horse opera" usually refers to the era of the Singing Cowboy and the movie serials of the 1930s. Silent film star William S. Hart coined the term because certain musical interludes in those early films featured the cowboy serenading his horse. In some snooty quarters, the term is used to lump together any entertainment with a Western setting.

The first true horse opera in Texas was a stage production of Lord Byron's romantic poem "Mazeppa" in Houston in May of 1839. The April 3, 1839 edition of The Morning Star newspaper noted that Mr. Lewellen's "well known and high celebrated horse Timour will appear." Any production where the horse gets all the advance publicity is a true horse opera, but the woman who played Mazeppa became the true star of the show and emerged as America's first entertainment celebrity and sex symbol.

Byron's poem tells of a young page, Mazeppa, whose dalliance with the wife of a proud and much older count is discovered. The count sentences Mazeppa to be bound "in nature's nakedness" on a wild horse. The horse is then turned loose in the wilderness, pursued by a pack of wolves. Poor Mazeppa.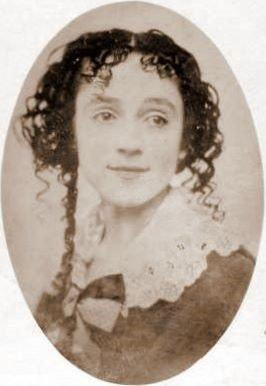 Adah Isaacs Menken at age19
Wikimedia Commons
A Texas woman, Adah Isaacs Menken, often referred to as La Menken or the Great Menken, took the drama on a world tour in her role as Mazeppa and made it the most famous horse opera of all time and Menken the most famous woman of her day. Newspapers referred to her as "the most photographed woman in the world" and ran pictures to prove it.

La Menken's early life is a tangle of fictions of her own devising. In one version of her childhood she was the daughter of a French nobleman. In another she was captured by Indians in Texas, ala Cynthia Ann Parker, but was rescued (after anywhere from three weeks to three months) by the Texas Rangers. Another version has her growing up as the adopted daughter of Sam Houston. She might have been born Nacogdoches, or possibly in Memphis, or maybe it was New Orleans, with the name Adelaide Bertha Theodore. Some accounts refer to her as "the naked lady of Nacogdoches."

Some sources list her as a student at Nacogdoches University but there is no evidence she ever cracked a book at that institution. However, Thomas Peck Ochiltree, a Texas Ranger, Confederate officer, and Congressman, reportedly knew her well in Nacogdoches and had a teenage crush on her until she stole his boots one Christmas Eve and he lost interest in her.

Adah also shows up in Liberty in the 1850s where she befriended local journalists and staged readings of Shakespeare and published poems and essays in the "Liberty Gazette." A Liberty resident recalled seeing her and her sister Josephine perform in Galveston. Adah performed her role wearing pink tights. The title character in the old movie "Heller in Pink Tights" is said to be inspired by her.

Adah probably met her first husband, Alexander Isaac Menken, in Galveston when they were members of Neitsch's Theater company. They eloped to Livingston and married in that city on April 3, 1856. They soon divorced and she remarried several times, though not always with the benefit of a legal divorce from the previous husband. She maintained her first husband's name for the rest of her stage career.

Adah made her first appearance as Mazeppa at the Green Street Theater in Albany, New York before the largest audience in the history of that theater. She wore a body suit that, under the stage lights, looked like a birthday suit. She performed the role in San Francisco, England and in New York City at Wood's Broadway Theater where one review noted that the theater was "jammed to suffocation." La Menken's performance in Paris in 1866 was hailed as the greatest triumph ever accorded an American actress.

Adah Isaacs Menken fell ill after a performance in Paris and died at the tender age of 33, penniless by some accounts. As she lay dying she wrote these words: "I am lost to art and life, yet when all is said and done have I not at my age tasted more of life than most women who live to be a hundred?"
---