Coldspring, Texas Topics of Interest:
History in a Pecan Shell

First named Coonskin, the settlement had a post office as early as 1847. But within a year it had been changed to the less rustic name of Fireman's Hill. Finally, in 1850 it became Cold Spring, and in 1894 the two words were joined.

In 1870 with the establishment of San Jacinto County, Cold Spring became the county seat. A fire in 1915 destroyed the courthouse and a new site was chosen at a slightly higher elevation.

The former site has retained the old county jail and the nearby "hanging tree." The population in 1907 was estimated at between 400 and 500.

In the 1920 the town was still reliant on the lumber industry and in the 1930s a CCC camp was built. The effects of the Great Depression were dulled, but not eliminated. After WWII oil was discovered nearby and in 1968 the Trinity River was impounded here behind the Livingston Dam.

The town reached its peak in the early 60s with 750 residents, declining to 569 by 1980 and bottoming out at 538 for the 1990 Census.
COLDSPRING
Coldspring originally stood in a low-lying area known locally as the "gullies." When the county was built there, rainwater kept flowing down the hill, washing away the buildings' foundations. The town eventually moved to the top of the hill, leaving behind a jail and courthouse. The courthouse burned in the 1920s and it, too, was rebuilt on the hill. The old jail, now a museum, still stands in the gullies.
(From Here and There, "Bob Bowman's East Texas" Column)
Historical Marker on courthouse lawn on Hwy 150
Townsite of Coldspring
Before founding of town, this land lay in Mexican grant made to Col. Robt. Rankin, veteran of American Revolution. Post office here bore name "Coonskin" (1847), then "Fireman's Hill," and finally "Cold Springs" (1850). Spelling later became "Coldspring." Original town plat contained 14 blocks. First courthouse, of wood, burned 1915. Present stone building replaced it in 1918. By 1923 most of town had moved up the hill to present site. Early schools included an 1847 academy, the 1880 "Male and Female Institute," and Mrs. India Grace's private school of 1880s.
Coldspring, Texas Attractions
Photo courtesy Mildred L. Brown, September 2007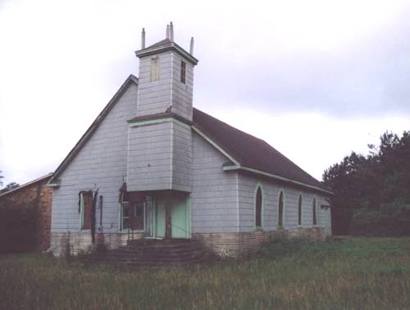 A Trip to Coldspring
Huntsville: Old Sam, Prisons and Pine Trees
From "The East Texas Sunday Drive Book" by Bob Bowman


(Previous)...From Huntsville, start east on U.S. 190. You'll pass through the town of Oakhurst, which was once a thriving sawmill town in San Jacinto County. A sawmill at Palmetto was moved to Oakhurst in 1911 and operated for a number of years. The town was named for Oakhurst, Oklahoma, home of several lumbermen who had moved to Texas.

Continuing on U.S. 190, some three miles north of Oakhurst, about two miles off FM 946, is Sam Houston's country home, Raven Hill, a name taken from the Cherokee Indians' name for Houston, "The Raven." A Texas historical marker is all that remains of the site.

Just east of Oakhurst is the entrance to Waterwood National Country Club, one of the best golf courses in Texas. The course offers 18 rugged holes built in the old Scottish tradition.

A little farther up U.S. 190 you'll discover the village of Point Blank, which sounds like something out of an Old West novel. Actually, Point Blank was was originally named Blanc Point by a Frenchwoman who moved here from Alabama. The town was also known as Point White and White Point. Ask for directions to a small cemtery on the banks of Lake Livingston, where Texas' second governor, George T. Wood, is buried.

Lake Livingston, covering some 82,600 acres, sprawls over several East Texas counties and is popular with fishermen, boaters and campers.

From Point Blank, take Texas 156 southward along the banks of the lake. Near Holiday Shores, turn on FM 224, which will carry you into Coldspring, the county seat of San Jacinto County since l870. Spend some in the quaint shops around the courthouse square and be sure to visit the courthouse, as well as the old county jail, now an excellent small-town museum.

Coldspring has had several other names during its lifetime, including Cookskin, Fireman's Hill and Cold Spring.

From Coldspring, head south on Texas 150 toward Shepherd, but a few miles out of Coldspring, take a right turn onto a unpaved road leading to the Big Creek Scenic Area, a tangled forest area that offers a good insight to what the Big Thicket looks like. The actual Thicket is 30 to 40 miles east of the area... more
Coldspring Chronicles
Three Tragedies by Bob Bowman
("Bob Bowman's East Texas" Column)
An intriguing family mystery spanning more than 135 years is told by three tombstones lying behind a rusting iron fence in... Laurel Hill Cemetery near Coldspring in San Jacinto County ... more
Custom Search
Book Hotel Here - Expedia Affiliate Network