Stamps School Historical Marker
Photo courtesy Gerald Massey, July 2011
History in a Pecan Shell
This community has no 19th Century history. It sprang up after 1900 and was named for lumber/sawmill magnate W.O. Stamps who opened most of the local businesses – including a gin and a canning factory.

Mr. Stamps also donated land for a church and school as well as a Woodmen of the World hall. Although no population figures are available, a sizable body of residents moved away after WWII.

Today Stamps is remembered by the 45 local people who were counted for the 2000 census.


Photographers Note:

"A historical marker is located about a ½ mile west of the intersection of FM1649 and Gardenia Road. I made it a point to go back here May 22, 2012. I had hurriedly photographed the marker about a year ago and wanted to see what I might have missed.

I am familiar with the Stamps Baxter Music Company. In the 1940s and 50s I used to go with my parents to ArkLaTex Singing Conventions that for a time were held in my hometown of Shreveport, Louisiana. I always heard advertisements, speakers and songs from the Stamps-Baxter Music Company and was surprised to learn it is still in operation." - Gerald Massey, May 25, 2012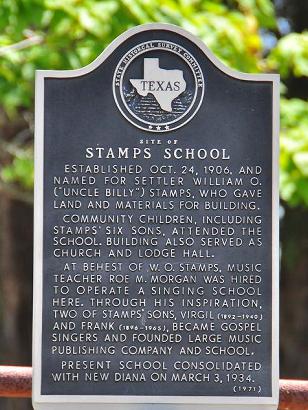 Stamps School Historical Marker
Photo courtesy Gerald Massey, May 2012
Site of Stamps School
Established Oct. 24, 1906, and named for settler William O. ("Uncle Billy") Stamps, who gave land and materials for building.

Community children, including Stamps' six sons, attended the school. Building also served as church and lodge hall.
At behest of W. O. Stamps, music teacher Roe M. Morgan was hired to operate a singing school here. Through his inspiration, two of Stamps' sons, Virgil (1892-1940) and Frank (1896-1965), became gospel singers and founded large music publishing company and school.

Present school consolidated with New Diana on March 3, 1934.
1971
Upshur County 1920s Map showing Stamps
(Above "HU" in "UPSHUR")
From Texas state map #10749
Courtesy Texas General Land Office
---
---
Texas Escapes, in its purpose to preserve historic, endangered and vanishing Texas, asks that anyone wishing to share their local history, stories, landmarks and recent or vintage photos, please contact us.