Like many Americans, I've long had an infatuation with the mystery and freedom of the open road; the insatiable desire to simply get in your car, head out on the highway, and drive…to see what you can see, to embark on an adventure that takes you to places you've never been and didn't even know existed. In this vein, Route 66, the mythical "Mother Road", has long held a particular fascination for me, with its unique roadside attractions, the art-deco & googie style architecture of her buildings, and stretches of unparalleled scenic beauty.

It was with this spirit in mind that I set out on a three-day adventure to drive and photograph the stretch of Route 66 between Oklahoma City and New Mexico. Of course, since I specialize primarily in night photography, almost all of the images from this three part series were taken after dark, and I hope that you find, as I do, that these old decaying roadside spots take on a new, special beauty when captured by moonlight.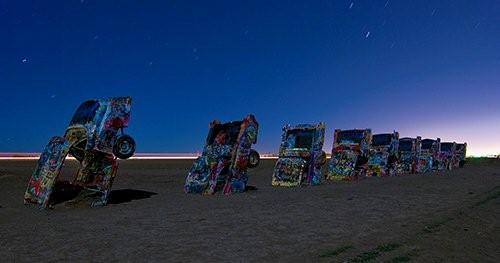 The classic sign of the Midpoint Café in Adrian Texas, so-named because of it's location exactly midway between Chicago and Los Angeles; 1139 miles either way!
Inside the Midpoint Café in Adrian Texas. The diner was closed at the time, but as I was shooting the sign outside the owner pulled up and invited me in to have a look around. I was supremely disappointed they were closed; this just looks like a place where you know you'll get great food and service!
As the sun set on another day, I pulled over along the old road between Glenrio and San Jon to photograph this section of original road surface, near Endee, New Mexico. Much of the going on this 18 mile stretch of the old road is now simply a dirt road, but there are still a couple sections like this one left to enjoy.
---
---
---
---