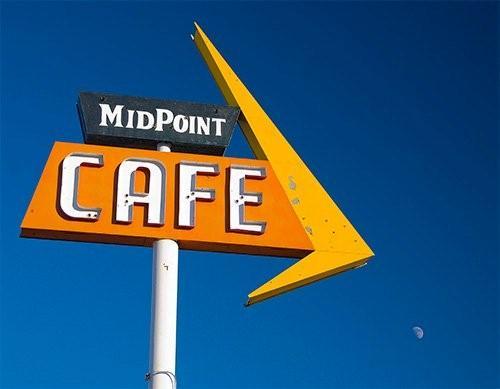 History in a Pecan Shell
Adrian, like the other towns that stretch across Texas along I-40 came into being as a stop on the Rock Island Railroad. Adrian was chosen as a stop in 1900, although the first train didn't arrive until 1909.

The town's namesake was early settler Adrian Cullen. Settlement was promoted by an Iowa company operating as the American-Canadian Land and Townsite Company.

A man named J. P. Collier, set up a printing press and dug a water well, running water pipe for the town's first infrastructure. A post office was granted and soon the town was thriving with a brickyard, blacksmith, bank, lumberyard and newspaper.

Scarce water and a long drought keep the population low. In 1915 there were only 50 persons.

A grain elevator was built in 1929 and a volunteer fire department was established in the 40s.

Although Adrian sets on the western side of the Texas Panhandle, it is the half-way point for travelers travelling the "Mother Road" of Route 66.
---
Adrian, Texas Landmarks
Photo Gallery
Bent Door Trading Post and 1946 Phillips 66 Gas Station
Photo courtesy Jimmy Dobson, August 2017
1967 Fabulous 40 Motel
Photo courtesy Jimmy Dobson, August 2017
Landscape just west of Adrian
Photo courtesy Ken Rudine, July 2006
---
Texas Escapes, in its purpose to preserve historic, endangered and vanishing Texas, asks that anyone wishing to share their local history, stories, landmarks and recent or vintage photos, please contact us.