Landscape just west of Adrian
Photo courtesy Ken Rudine, July 2006
History in a Pecan Shell

Adrian, like the other towns that stretch across Texas along I-40 came into being as a stop on the Rock Island Railroad. Adrian was chosen as a stop in 1900, although the first train didn't arrive until 1909.

The town's namesake was early settler Adrian Cullen. Settlement was promoted by an Iowa company operating as the American-Canadian Land and Townsite Company.

A man named J. P. Collier, set up a printing press and dug a water well, running water pipe for the town's first infrastructure. A post office was granted and soon the town was thriving with a brickyard, blacksmith, bank, lumberyard and newspaper.

Scarce water and a long drought keep the population low. In 1915 there were only 50 persons.

A grain elevator was built in 1929 and a volunteer fire department was established in the 40s.

Although Adrian sets on the western side of the Texas Panhandle, it is the half-way point for travelers travelling the "Mother Road" of Route 66.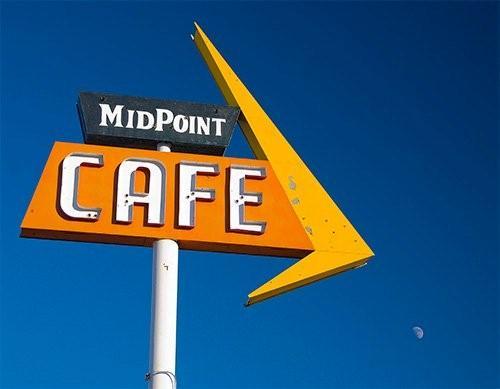 Adrian Texas
"Route 66 Mid Point"

Photo courtesy Ken Rudine, July 2006
---
---
---
---