Decades before the ongoing CVS – Walgreen's Drugstore turf war, a town was happy to have a single drugstore – delirious if it had two.

In the late 19th Century drugstores were proof that a town was "civilized." When a pharmacist opened shop, it was usually a relief to the town's overworked physician. Often it was the doctor himself who opened the drugstore.

Locals always knew where to find the drugstore. Beside (or alongside) the barber's pole, the mortar and pestle was the most recognized sign not needing text.
"[Winnie Pharmacy] was my Dad's store, and he served as Pharmacist from 1962 till 1988 when he retired. Pharmistists were John Gaudet and my father, Gerald Barrios. I spend many years at the Pharmacy as a child growing up (the new one was built in 1965) and the neon sign was on the original store across the street and moved there when the new store was open. It brought back great memories, and the sign is such a classic." - Barry Barrios
The products that didn't need prescriptions (hot-water bottles, etc.) came next – then the the soda fountain appeared and remained a fixture through the early 60s. "Lunch counters" competed with cafes in larger towns. After WWII, paperback book racks appeared – providing books and outside viewpoints that were beyond the censorship of the town librarian.

It's debatable whether the soda fountain or the out of town periodicals created the phenomenon known as the "drugstore cowboy" but pharmacies were well-lighted and drew young small town men like moths.

Today's drugstores compete with groceries and the array of products runs from lawn furniture, sun block and batteries. A few drugstores have somehow managed to stay in business, but family owned operations are nearly extinct.

A few – like the one in Chico, Texas, operate as a sort of de facto museum. Other towns (Weimar, Bastrop and La Grange) still display their ancient brown apothecary jars – often labeled in handwritten German or Latin.
The most weather-beaten drugstore sign in Texas?
Centerville TX
TE Photo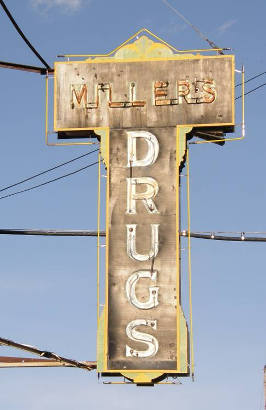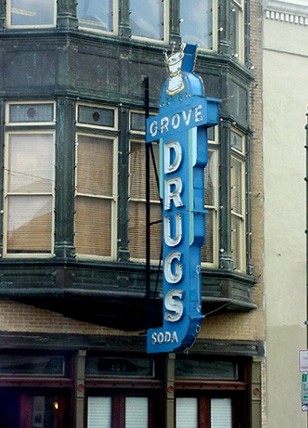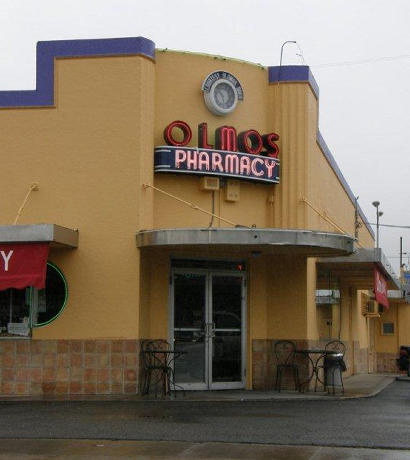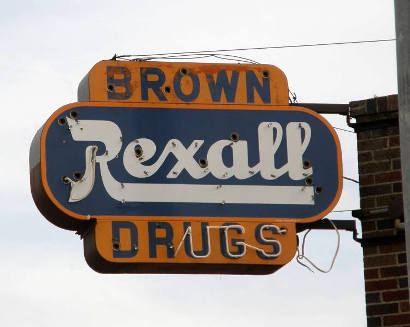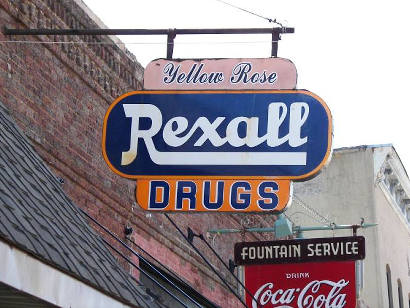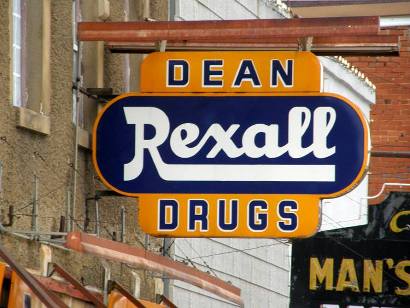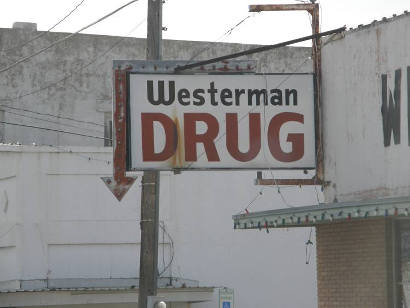 © John Troesser
If your town has a drugstore artifact, take a photo and send it to history@texasescapes.com and we'll add it to our drugstore content.


This photo essay of drug signage came about from a request from the College of Pharmacy Continuing Education of UT Austin. (Letter shown below). A call went out from the home office to Barclay Gibson and before long a sizeable file materialized - most of which were included here. Our thanks go out to Dr. Baumgart for his request, thereby creating this overlooked category in small town images.

Letter One:
"I work for the College of Pharmacy at The University of Texas at Austin. We host a conference each fall for Pharmacists with an average experience of 25+ years of experience working in and around Texas. I was looking for images for our conference programs, and came across a pictures in your [magazine]. I am also interesting in any photos you may have of old pharmacies drug or store signs and buildings. This year's conference is our 60th year, and I felt it would be great to include older photos. Thank you in advance for your consideration."

Letter Two: "I cannot thank you enough for the photos and your generosity. We will add the photos to our website when we redo the site this summer, and will use a few photos on our program. I have to admit, the best part of all this is finding your [magazine]. I am a history nut, and I love to find the out-of-the-way historic places in small towns. I used to record photos like yours when growing up in Indiana, loved finding the little histories and stories. I'll be a regular visitor to Texas Escapes and use it as a guide on future road trips. Thanks for all the hard work. I greatly appreciate such a great find." - Glen Baumgart, PhD Director College of Pharmacy Continuing Education The University of Texas at Austin, April 19, 2012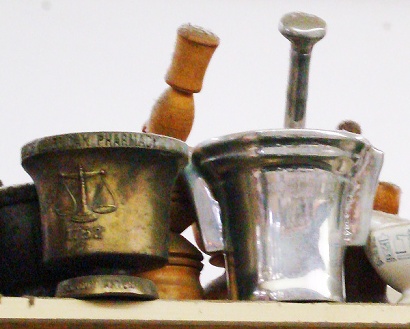 Before I Die Next Year, He Said
by Ken Rudine

Very few people under age 30 today understand that pharmacies of the past held a position of trust in our lives.
---