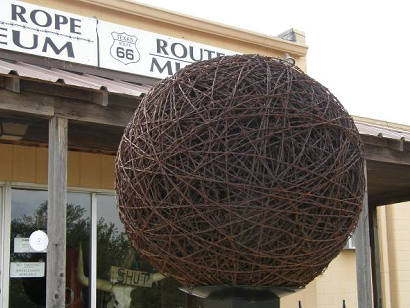 History in a Pecan Shell
The town was named for Texas legislator, judge and (at that time a newly appointed) railroad commissioner, William Pinckney McLean (1836-1925). McLean grew up around a water well drilled by the Choctaw, Oklahoma and Texas Railroad Company in 1901.

English rancher Alfred Rowe laid out a townsite and mail service began with the opening of the McLean post office in 1902.

Two years later McLean was thriving with stores, wagonyards, a lumberyard, livery stables and its own newspaper, modestly named the McLean News.

A well in Main Street was the towns first infrastructure - outfitted with a windmill the water was hauled to households by the barrel.

McLean made efforts (in 1908 and 1919) to replace Lefors as the Gray County Seat. The rivalry was settled when the oil boom made Pampa the county's dominant city.

By 1940 the population was around 1,500 and in 1943 a German P.O.W. Camp was built, providing some jobs for the town - but having the unforeseen negative effect at having local women marry American guards and move away.

By 1948 the Camp was reduced to only foundations and today an airfield cuts across the former camp center.

Amarillo has drained off McLeans population over the years - reducing the number of McLean citizens to only 1,183 in 1970.

Book Hotel Here > Amarillo Hotels
McLean, Texas Attractions/Landmarks
The 1929 Route 66 Phillips 66 Station
Jimmy Dobson Photo, May 2016
The Avalon Theater Then
Old Postcard courtesy Delbert Trew
"Harrell Bro's Livery, McLean, Texas"
Photo courtesy texasoldphotos.com
The O'Dell Hotel, McLean, Texas
Photo courtesy texasoldphotos.com
Route 66 abandoned motel
Photo courtesy Jimmy Dobson, August 2017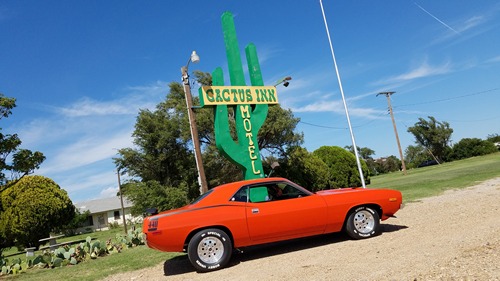 McLean is fortunate to have a very active group of preservation-minded citizens that have restored two historic gasoline service stations (The First Phillips 66 station outside of Oklahoma and a 1932 Texaco station) as well as the Avalon Theater downtown.

A former garment factory now provides space for twin museums. One, Devil's Rope Museum is a tribute to barbed wire and it's indisputable importance and the other is devoted to Texas' portion of the fabled highway - Route 66.

The Prisoner of War Camp was acknowledged by the dedication of a historical marker in 1997.

Delbert Trew, Panhandle rancher, historian, and columnist, has written a most informative book on the McLean P.O.W. Camp comprised of interviews, photos, and most importantly, the memories of those who had some connection to the camp back in the 40s. The book is now in it's fourth printing. Trew is also the author of the R.O. Ranch - a history of ranch and the Englishman owner R. O. Rowe - the man who platted the town of McLean and died under unusual circumstances
---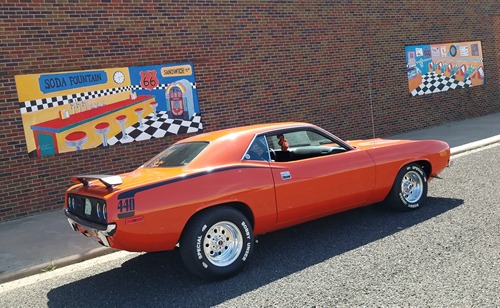 Route 66 Wall Murals
Photo courtesy Jimmy Dobson, August 2017
---
McLean Chronicles
McLean P.O.W. Camp by Delbert Trew


Pederson Creek offered unique privileges by Delbert Trew
"Early residents along Pederson Creek just west of McLean enjoyed two privileges most other settlers did not have..."


A look at wash day from early to modern by Delbert Trew
"...David Bowerman of Amarillo asked whether I knew some of his relatives who operated a laundry or "wash-a-teria" in early McLean. When the question was presented to our coffee shop locals, we heard some interesting facts and stories about this most important local institution..."
---
A souvenir postcard circa 1955
TE postcard archives
McLean, Texas Forum
Subject: Gracey School near McLean Texas
My name is Jim Gracey and my grandfather was James Rush Gracey (b 1858 d. 1938) who worked on a ranch in the Texas Panhandle. I remember as a small boy (circa 1940) going to visit a brick school house near McLean Texas that was named "Gracey School". There were even school busses with the name Gracey on it. I have been searching my parents old photographs to find a picture but have been unsuccessful. The story I remember was that J. R. Gracey had something to do with founding the school and that was why it was named after him. I have no idea if the building still exists. I would appreciate any information you may have or any suggestions for further research. - Jim Gracey, July 06, 2005
---
Texas Escapes, in its purpose to preserve historic, endangered and vanishing Texas, asks that anyone wishing to share their local history, stories, landmarks and recent or vintage photos, please contact us.