The 1912 Atascosa County Courthouse
TE Photo, 2002
The Present Atascosa County Courthouse
Jourdanton, Texas
Date - 1912
Architect - Henry T. Phelps
Style - Mission-style
Material - Brick and stone
---
Historical Marker:
Atascosa County Courthouse
Atascosa County was created from Bexar County in 1856. The first county seat was at Navatasco, on land donated by Jose Antonio Navarro, and the county's first courthouse was a log cabin. The county seat was moved to Pleasanton in 1858, and a frame courthouse was erected. A second courthouse was built in 1868, followed by a third, a red rock structure in 1885. When a special election resulted in the relocation of the county seat to Jourdanton in 1910, the county officers were first housed in rented quarters. The following year the Gordon-Jones Company began construction on a new courthouse. Completed in 1912, the building was designed by San Antonio architect Henry T. Phelps (1881-1945), who would also design the Atascosa County Jail in 1915. The two-story brick building has identical entries at each side. Mission Revival-style detail includes curvilinear parapets and occasional Renaissance motifs, accomplished with cast-stone highlights, metal balustrades, and tile roofing. The corners of the building are turned with three-story tower bays, each topped by an open belvedere. Later alterations to the courthouse replaced original windows and installed an elevator opposite the original stairwell.
Texas Sesquicentennial 1836-1986.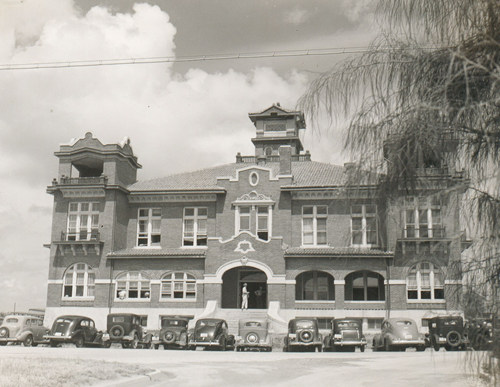 Atascosa County Courthouse as it appeared in 1939
Photo courtesy of TXDoT
---
The 1885 Atascosa County Courthouse
"An oil painting of the 1885 Atascosa County courthouse that stood in Pleasanton. This painting hangs in the Longhorn Museum in Pleasanton."
- Terry Jeanson, October 30, 2006
FORUM

Subject: The 1885 Atascosa County courthouse
"I was pleased to find your page with several renderings of the Atascosa County court house, past and present. I was rather amused at the "legend" you repeated about moving the court house from Pleasanton to Jourdanton. Actually, only the records were moved (stolen, as I heard it) and the old court house in Pleasanton was still in its place when I was a child, serving as the Pleasanton City Hall. By the time it was demolished to make way for the widening of US 281 through town in the mid 1950's, the upper floor had been condemned, as I recall, but the city offices were still housed there. The present city hall stands on what is left of the old grounds of the Pleasanton Court House.

That "legend" may be a version of a story a gentleman told on himself . When he first came to Atascosa County, it was about the time that the county seat had been moved, and feelings were still very raw about that event. It so happened that at least two other county seats were being moved about the same time, and this hapless gentleman suggested to a group of Pleasanton citizens at a "friendly" gabfest that perhaps they should just put all the courthouses on railroad cars and roll them around that way until they decided for sure where they should go. He said that he hardly got the words out of his mouth before every man within hearing of him had drawn their pistols on him. Only after the most abject and profuse apology was he able to convince those men to holster their weapons. He never made that mistake again.

I happened to have read this story just today in a book published by the Atascosa History Committee in 1985. Thanks again for a good page." - Marcy Porter, May 06, 2008
---
The 1856 Atascosa County Courthouse
Across the street from the current Atascosa County Courthouse in Jourdanton is the replica of the first Atascosa County Courthouse at Amphion.
Photo courtesy Terry Jeanson, October 2004
Historical Marker:
Atascosa County Courthouse
This log cabin is a replica of first courthouse built 1856 near Amphion (Navatasco) 9 miles to the northwest, on site given by Jose Antonio Navarro out of his 1828 grant from Coahuila and Texas. A signer of the Texas Declaration of Independence, he helped organize this county. First court term, 1857. First officials: Sheriff, James H. French; Chief Justice, Marcellus French; District Clerk, Edward Walker; County Clerk, Daniel Tobin; Tax Assessor-Collector, Thomas R. Brite; County Treasurer, Baylor Winn; District Attorney, James Paul; District Judge, E.F. Buckner.
(1964)
---