The Schunior High School (detail)
TE Photo, 2002
The Naming of La Joya, Texas
The actual first settler of La Joya Texas was the family of Hilario Silva. La Joya was called La Joya because the ranchers of Rio Grande City would take thier cattle to the watering hole (called jollancas) in La Joya. Not because the water glistened like a jewel. New people that have come to live in La Joya think they know the history of La Joya, and get their facts from people that have lived there a very long time although were not of the actual descendants of the 1st settlers. When actually they should get their facts about La Joya from the descendants of the original La Joyans which was my family. There are people like Vicente Garza, Roberto Gonzalez Jr. Aurora G. Cavazos, who is 96 years old who was the granddaughter of Hilario Silva, Manuel Gonzalez, Gonzalo Gonzalez Sr. who also happened to be a direct descendant of Hilario Silva. I, myself am an Hilario Silva descendant but I have learned my history through those people aformentioned. - Yolie Flowers, September 27, 2009



History in a Pecan Shell

"The Jewel" is said to be named after a small natural lake once nearby. The town sits on land that was once known as Los Ejidos de Reynosa Viejo.

The settlers of Reynosa Viejo shared grazing lands here called ejiidos in Spanish. Settlement began in 1749, when José de Escandón brought the first settlers here. Even today, many residents are descendants of the original colonists. Francisco de la Garza, had founded a community called Tabasco, on this side of the Rio Grande in the early 1900s. It prospered briefly after being abandoned (for higher ground) because of severe flooding in 1908 and 1909.

In 1926 a land developer from Houston named J. H. Smith arrived and coaxed the locals into incorporating - which they did that same year - officially naming it after the lake west of town. In 1930 the town was still in its infantcy, with just two businesses and a few houses.

Development was curtailed due to the Great Depression and by 1940 the town only had 175 people living there. Nothing much happened in La Joya until the mid 1950s when a man with the redundant name of Leo J. Leo organized the townspeople to hold an election. In 1965 Leo Leo became the town's first mayor.

By 1972 the town had over 1,200 people which doubled over the next ten years.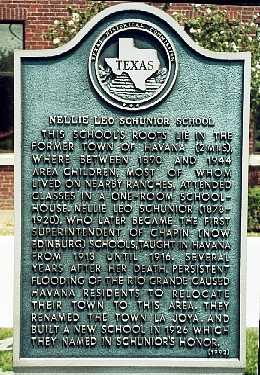 Nellie Leo Schunior School Marker
TE photo
The La Joya Post Office
TE photo, 2002