RELAMPAGO, TEXAS
Hidalgo County, South Texas
Off Highway 281
10 Miles SE of Weslaco
Not shown on the state map
Population: 104 (2000)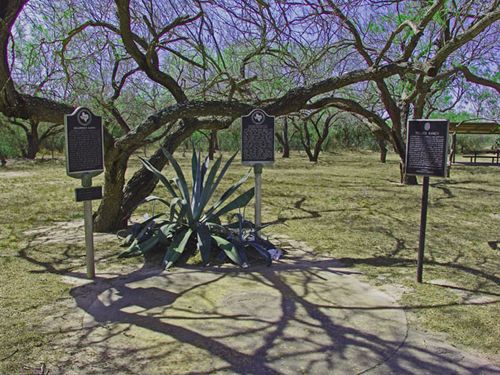 History on an Onionskin

Relámpago is the Spanish word for "lightning flash." The land had originally been part of a 1790 land grant that remained undivided until 1848. When Juan José Ballí, the original grantee died, this portion of the grant fell to his son, Vicente Hinojosa. Vicente's son, Cirildo is credited to be the first settler on the portion of land that was to become Relampago.

In 1852 Thaddeus Rhodes of Brownsville purchased a large plot and two years later a rancher named José María Mora bought the neighboring plot (1,400 acres). Rhodes and Mora merged their holdings into the Relampago Ranch. By 1880 the community had 158 residents.

In the mid 1880s the community was serviced by the Brownsville stage line. In 1902 a parcel of land was sold to the American Rio Grande Land and Irrigation Company and six years later the town was platted by a subsidiary of ARGL&I. The town was all but washed away by a 1909 flood, which accounts for the notable lack of buildings today. A post office was briefly open from 1910 to 1908.

The old store (established by Mora in the 1880s) closed in the late 1920s. 200 people continued to live here into the 1960s but the development of a colonia rivaled the town, eventually taking the identity of the town by right of population. In the mid 1980s the population was down to 135.

The Relampago Cemetery has been used for several generations of the Mora and Rhodes families and the land is now used primarily for the growing of onions, particularly the 1015 variety.