BIG SPRING, TEXAS
"The Main Spring of West Texas"

Howard County Seat, Texas Panhandle*/ West Texas
US I-20 (US 80) Hwy 87
Hwy 350 FM 700
Hwy 176
39 miles NE of Midland,
59 miles NE of Odessa, via I-20
86 miles NW of San Angelo via 87
Population: 27,495 (2010) 25,233 (2000)
County population: 35,012 (2010)

The Texas & Pacific Depot, circa 1896
Courtesy Doyle Phillips / FotoGrafica
Big Spring in Brief by Doyle Phillips

Big Spring has long been known as the crossroads of West Texas. The ancient spring for which the town was named attracted prehistoric people, Amerinds, Spaniards, Mexicans and Anglos. The fascinating Comanche 'War Trail' to Mexico branched at the spring.


Old tales are legion and photographic documentation is extensive.

Early explorers and cartographers noted the 'big spring of the Colorado River'. In 1839, Dr. Henry Connelly, a trader from Chihuahua, Mexico successfully led a huge caravan with a fortune in silver to Fort Towson, Oklahoma, stopping midway at the spring. U.S. Army Captain R.B. Marcy in 1849 lauded the beauty of the place and one of his Indian guides, Manuel, said that his brother-in-law died in a battle between Indians at the spring, fifteen years earlier. Official reports of Texas Rangers and U.S. Cavalry frequently mention the Big Spring.

When the town was formed about 1880 it consisted of canvas dwellings and a noticeable predominance of saloons. The citizenry was hard to tame; in the 1880 census Texas Rangers outnumbered citizens. Large mercantile stores were established to supply regional ranches of the Staked Plains. The Texas & Pacific Railroad hauled in materials of all kinds and took away cars full of cattle and buffalo bones for eastern markets. Railway workers contributed much to the culture of the thriving metropolis.

Two major highways were eventually constructed and prosperity continued. Fine hotels went up to accommodate commercial travelers and tourists from all over the world. Three airlines hubbed at the Big Spring Air Terminal - all in time for the massive discovery of oil in almost every part of Howard County. Even the Depression failed to kill the economy, or at least it seemed to be felt less. For a time there were four oil refineries located in the town.

Cotton farming thrived. Many gins were built in several communities throughout the county. At the beginning of World War II the substantial Big Spring Army Air Base was laid out and thus brought in new culture and new money. Big Spring and Howard County residents enlisted in the military services in unusually high numbers.

Music-making was an integral and large part of Big Spring area life from the beginning. Honky-tonks promoted many soon-to-be-famous performers. A magnificent municipal auditorium and city park with a unique amphitheater provided the stages for popular musical shows.

At one time Big Spring was reputed to have more Protestant churches than any place in the U.S., per capita. The population of the city once reached 35,000.


Big Spring Today

Skipping to the present, the town is now about 23,000 with a large part of the economy based on public-sector institutions, such as prisons, a regional VA Hospital and a state mental hospital. Although the decline in oil revenues has dramatically affected the entire region, employment rate is high and cost-of-living relatively low. New business ventures are encouraged by city government policies.

Copyright Doyle Phillips

Big Spring Hotels > Book Here

A Big Spring Service Station c.1948
Photo courtesy Doyle Phillips / FotoGrafica
Big Spring with The Settles Hotel in the center
Photo courtesy of Doyle Phillips / FotoGrafica
Big Spring Landmarks / Attractions / Photos
The Spring - The town's namesake. next page
Howard County Courthouses next page
Settles Hotel next page
Hanger 25 Air Museum: www.hanger25.com A museum of the Big Spring Army Air Corps Bombardier School (its purpose during WWII) and Webb AFB (1955-1977).
Potton House (circa 1901): Second Street and Gregg - one of West Texas' best examples of Victorian architecture. Red sandstone construction with vintage furnishings.
Heritage Museum: 510 Scurry Street. Local History
Big Spring State Park: On the southern edge of the city, this 340 acre park offers a scenic view of the city.
http://www.tpwd.state.tx.us.htm
City Park: 400 acres downtown, including the Comanche Trail Amphitheater and the spring that is the town's namesake.
Moss Spring Centennial Marker - About nine miles SE of Big Spring near Moss Lake.

Big Spring Hotels > Book Here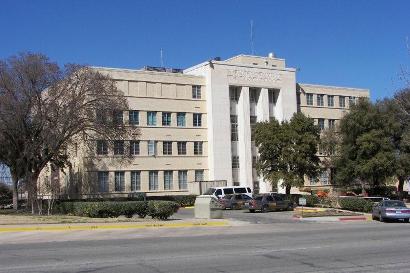 "The Potton House at 200 Gregg St. (US 87,) built by Englishman Joseph Potton in 1901. Potton was a master mechanic for the Texas & Pacific Railroad." - Terry Jeanson, June 2006 photo
Former State National Bank Building
Photo courtesy Barclay Gibson, December 2009
Big Spring Cemetery Funeral Chapel
Photo courtesy Barclay Gibson, February 2007
Ritz Theater
Photo courtesy Don Lewis
Alberto's Crystal Cafe Neon
Photo courtesy Barclay Gibson, December 2009
Big Spring Public School
Postcard courtesy www.rootsweb.com/ %7Etxpstcrd/
More Texas Schoolhouses
Post office in Big Spring. "An Air Mail Hub of West Texas"
Postcard courtesy www.rootsweb.com/ %7Etxpstcrd/
More Texas Post Offices
The Crawford Hotel
Courtesy Doyle Phillips / FotoGrafica
Nearby Destinations
Hwy 87 South 86 miles to San Angelo.

FM 33 south about 25 miles to Garden City.

Big Spring Chamber of Commerce:
215 W. 3rd Street 915-263-7641
Website: www.bigspringtx.com

Big Spring Hotels > Book Here
Moss Spring Centennial Marker
40 or 50 years ago the Moss Spring Centennial Marker was easily reached from the north side of Moss Lake. It was a well known swimming hole during WWII where airmen training at the local Army Air Field came on weekends with their wives and girl friends to swim and hike to the distant Signal Mountain...
Photo Courtesy Barclay Gibson, January 2010
Volney Erskine Howard by Mike Cox
Reading vintage newspapers, itís not hard to see how Texans early on helped to develop the long-standing notion that people from the Lone Star State are folks with whom it is best not to mess.
A Man to Count on in Big Spring - An Earl Comes to West Texas by Brewster Hudspeth
"The Earl's adventures in Big Springs have become legendary. While there has been some embellishment over the years, the legends were nearly all rooted in fact. A few follow: ... "
Texas Escapes wishes to thank Doyle Phillips for the loan of photos from his collection and for writing the Big Spring history. Mr. Phillips is the author of numerous books on West Texas and Big Spring in particular. About Doyle Phillips and more vintage photos
*Texas Department of Transportation includes Howard County in the Panhandle Plains
Texas Escapes, in its purpose to preserve historic, endangered and vanishing Texas, asks that anyone wishing to share their local history and vintage/historic photos, please contact us.
Custom Search
Book Hotel Here - Expedia Affiliate Network