---
Unlike most "railroad" towns, Smithville's main street (First) doesn't run parallel to the tracks.

In addition, the railroad hasn't completely left. Repair facilities still work on cars, although not to the degree of days past. If you start at the Railroad Historical Park and walk North you'll pass the commercial district, The Smithville Times, City Hall, the Library, the Post Office, residences and eventually you'll come to a rest area overlooking the Colorado River.
Railroad Theme in Smithville
Riverbend Park out on Highway 71 has a real caboose on display in addition to the two others in Railroad Park.
Photo Courtesy Smithville Historical Society
From Arcadia Publishing's Images of America Series: Smithville, Texas
Photo Courtesy of the Smithville Historical Society
From Arcadia Publishing's Images of America Series: Smithville, Texas
---
Movie Theme in Smithville
At present, Smithville displays artifacts (mostly bogus storefronts) from the movie Hope Floats. We think it's worth mentioning that Smithville was called Smithville in the movie, the only time we can remember that happening. Even Hollywood couldn't improve their name.

The restaurant Pockets (Hwy 90 and First St.) displays many more of the signs used in the picture.
Smithville's Dexter - From Underdog to Best of (Picture) Show by Ted R. Krueger
"Adena Lewis called asking us to bring our dogs to a casting call for the movie "The Tree of Life" that was soon to be filmed in Smithville. The director, Terrence Malick, wanted the "hero dog" (to be called "Shep" in the movie) to be an untrained dog..."
A ghost sign of a product that never was - but is.
Smithville, Texas

TE Photo, 2003
Bright and Early
A ghost sign in Smithville
TE Photo
---
---
Former Masonic Lodge
Smithville's Tallest Building
TE photo, May 2010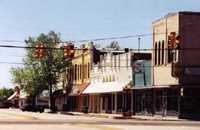 Smithville street scene
Courtesy Cissy CeCe Wong
L - Smithville School TE photo
R - Texas Cuisine Courtesy Valentine Ricé
---
---

The snake over the door
Courtesy of The Smithville Times.
Smithville Library

We recently called the library on a Monday and said; "Oh, you're open!" The response was: "Why? Is it a holiday? Are we missing out on something?" This is representative of the openness (and the ever-present fear of missing out on something) of Smithvillians.

A few more words about the Library: They have a new copier with a "photo" key, which copies a photo better than you've ever seen. They also give you a choice of a regular borrower's card, or one of their bar-coded, state-of-the-art, postage stamp-sized cards that fit on one's key chain and (wait, there's more) they're waterproof! Unlike many current trendy libraries, these folks aren't hell-bent on making shelf space. We've found many books other libraries have discarded. If you haven't read it, it's news to you. Our only complaint about the library is that it is underused. The staff is competent and friendly. It's rare to find this mixture of "cutting-edge" technology and practical tradition. They have even been heard saying "thank you" when books are returned.

And while we're mentioning subtlety (the kitten's names-not Geraldo), a visit last year found three of the hour hands knocked loose from the four-faced clock at the end of First Street. Less than a week later we returned and all had been reattached and were in perfect synchronization. These are the same people who put Christmas lights on their old Fire-truck, and fence the fire station's property with old fire hydrants as posts. What's not to like about Smithville?

Book Hotels Here > Smithville Hotels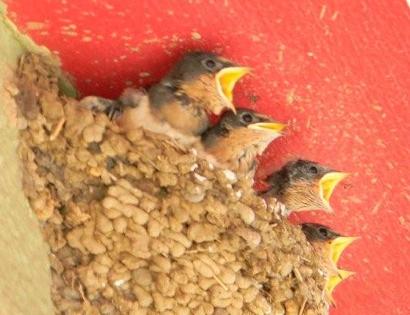 When the Swallows Come Back to Smithville
TE Photo, May 6, 2010
---
---
Texas Escapes, in its purpose to preserve historic, endangered and vanishing Texas, asks that anyone wishing to share their local history and vintage/historic photos, please contact us.
---
---