It was with great sadness that I learned of the recent death of L.D. Clark.

I had the pleasure of meeting L.D. and his wife La Verne at a book fair in Fayette County in 2002. I was flattered when they invited me to visit them in Smithville. They signed two books for me. One was on the Great Hanging at Gainesville and the other was A Bright Tragic Thing. The inscription was old school polite: "To John, Thank you for your interest."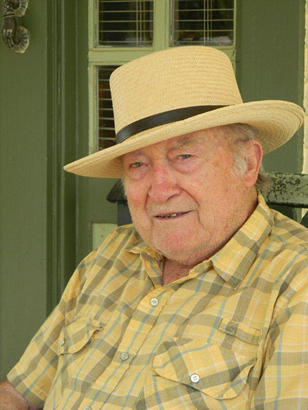 It was a few months before I could make it to Smithville and by that time I only remembered both of them saying "we live on Main Street – across from the library."

When I inquired at the library, a librarian refused to point out the house. She said "We're all a little protective of L.D." Later, when I was reintroduced to L.D. by the head of the Smithville chamber of commerce (at that time), I related the story. His reply was polite but he shook his head with a frown.

"Nonsense," he said, "I love company." And so he did.

David Herrington, Smithville Historian and co-author of the Acadia book Smithville came by (The Historical Society was right next door to L.D.'s house) and the three of us went to lunch. David had served as a guide on a previous visit – helping me locate a hard-to-find 1936 Centennial Marker. (A marker Barclay Gibson had no trouble finding).

We ate the first of several lunches together – three old men with a combined age nearing 230 years. I brought up an introduction to one of his books – wherein he recounted a prank the younger boys of the Clark clan once perpetrated on their grandfather back in the 1930s or thereabouts. All were mounted and the boys had pulled bandanas over their faces before they surrounded the helpless man who was riding home. He started begging for his life –helpfully ignoring the fact that not one of the desperadoes exceeded 60 pounds. He said something to the effect of "Now, boys. please don't hurt me – I have a wife and kids and a lot of grandchildren that I love dearly." The plea was so well-delivered that little L.D. fought back tears and the urge to pull his bandana down and shout "Its okay, Grandpa, it's only us!" I asked for permission to reprint that intro and he seemed pleased to say yes.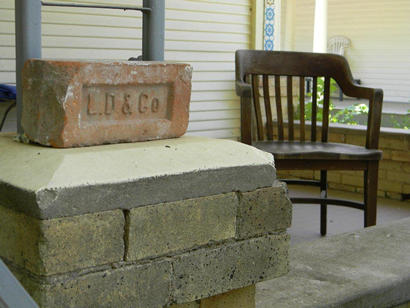 Our visits were mostly on his porch where he displayed one of his prize possessions: a brick impressed with the words L.D. & Co. A gift from a friend; it was a coincidence he was delighted with. His speech was very much like his writing – clear and concise.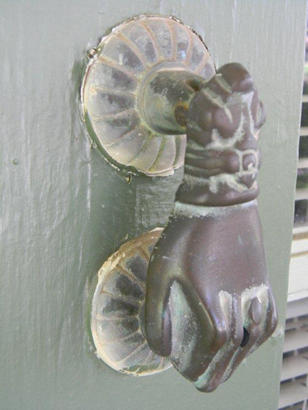 He reminded me of his age only when I asked him if he had ever met any Civil War veterans. His answer was; "You mean besides my father?"

The door to his house stayed open since he appreciated the utility and practicality of a screen door. His living quarters looked ready for a military inspection and a quarter would've bounced on the tight blanket of his bed. He got two beers from his fridge and opened them on a wall mounted opener – an antique that looked brand-new.

We talked about his writing, D.H. Lawrence in Mexico, and the book he was currently reading. It was an Argentine novel – in the original Spanish - and he said that he had to pay close attention because they didn't always say which character was doing the speaking.

I mentioned to L.D. that I had twice stayed in the well-worn Hotel Habana in Mexico City (the mid 1980s) where Lawrence was gathering info for his novel The Plumed Serpent. Being a Lawrence scholar, naturally, L.D. had stayed there too (early 60s). I assured him that they still drove the cars of guests through the lobby for parking. The first time I checked in I asked the bellman if they 'remembered' what room D. H. Lawrence had stayed in. "Oh, do ju wan' the room of Senor Lawreence?" And they took me to room 123. I looked upon the tiny room and wondered if Lawrence had been cooled by the same ceiling fan since it was obvious the plumbing fixtures were the same. The next time I stayed there, I asked for "Sr. Lawreence's room" and they took me to a different room on a different floor. L.D. Laughed and said "They did the same thing with me."

Out of the blue, he asked if I had children and I said no. Then I asked why he had asked. "Because we've been talking for awhile now, and you haven't mentioned your children once – that's unusual." The conversation then went to the special bond between uncle and nieces and nephews and that was when I learned he was moving back to his home county, leaving La Verne's substantial family farm to UT to be used as a writer's retreat.

"But you can come visit," he said. "I'll be at 910 Rusk Street. That's easy enough to remember." He said he'd take me to the old family homestead and show me the grandest tombstone in Cooke County – a marble sarcophagus hauled by a team of oxen from the railroad depot. The stone was for a girl who had died before she could marry her lover, a cowboy who went into debt to buy it.

I deeply regret that I was unable to see him again. But I'll always remember his warm invitation and the address of 910 Rusk Street.


- John Troesser
May 1, 2014
From his obituary in the Austin American Statesman:


"L.D. Clark, 91, March 19, 2014 in Gainesville, Texas. One of seven children, he was born on October 22, 1922 on the Clark family farm.

Raised on a farm among generations of his elders that loved to tell stories of family history, he began his education in a one-room schoolhouse called Six Mile (or Hog-Eye) that got its water carried in from a spring in the woods. He graduated from Gainesville High School in 1940. After one year of college,he enlisted in the Army Air Corps in August 1942 and served in the Pacific as a gunner and weathercaster on B-24 bombers running search and destroy missions against the Japanese.

After his discharge in 1945, he enrolled in Columbia University in the English Literature Program, earning a B.A., an M.A. and a Ph.D. There, in a creative writing class, he met the love of his life, LaVerne Harrell, a Texan from Smithville. They were married in September of1951 and remained together until La Verne's death in 2008.

Mr. Clark taught English at the University of Arizona for thirty-three years, ending his career as professor emeritus. He also taught in Japan and Korea. He authored fourteen books over the course of his writing career. He was an expert on the English writer D.H. Lawrence.

Upon retirement, he and LaVerne returned to Smithville in 1999. L.D. returned to his beloved Cooke County in 2010 to be near his nieces and nephews. He was a member of the Texas Institute of Letters as well as numerous historical organizations.

He is survived by nieces, Carol Harshbarger, Nell Reta Johnson, Sherri Auchter, Colleen Carri, Renee Clark, and Cindy Mangum and nephews, Miles Ray Clark, Larry Clark, Neil Clark, and Gerald Clark. Also surviving are many great nieces and nephews, great-great nieces and nephews, and two great-great-great nephews."
---