Texas Ghost Town
LARISSA, TEXAS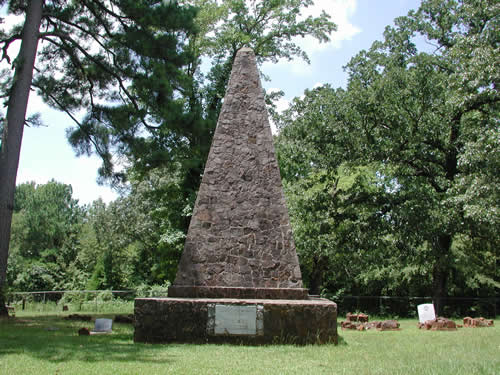 History in a Pecan Shell

The area was first settled by Isaac Killough, and his extended family in 1837. After briefly vacating the area for the safety of Nacogdoches, the Killough group returned to harvest their corn crop. The Indians assured the group they would not be molested - but angry because of a broken treaty - the Indians did attack - resulting in what is believed to be the worst Indian attack in Texas history - the Killough Massacre.

Resettlement of the area had to wait until after Texas statehood. In 1846, a group of Tennesseeans arrived under the leadership of a man named Thomas H. McKee. The settlement was known at first as the McKee Colony.

Thomas' son T. N. McKee, platted a townsite naming it after an ancient Greek city famous for education. McKee, who became a Presbyterian minister, insisted on distancing his town from nearby Talladega - since that town had a saloon.

According to legend, in 1848 the Thomas McKee sold a slave in Shreveport and then used the proceeds to buy the town a one-room schoolhouse. In 1855 the school was acquired by the Brazos Synod of the Cumberland Presbyterian Church and became Larissa College. The post office was granted in 1847 and a Masonic lodge opened two years later.

During the early 1850s Talladega started to disappear, its businesses lured to Larissa.

By the mid 1850s, Larissa had a three-story college building, and two large dormitories. In 1866 the Presbyterians stopped supporting the college and it closed its doors in 1870. The town had prospered based on the school's enrollment so when the school closed Larissians started looking for greener pastures.

A meningitis epidemic in 1872 depleted the population further and when things didn't look like they could possibly get worse, the town was bypassed by an arriving railroad (the Kansas and Gulf Short Line Railroad) in 1882. The few remaining families moved to Mount Selman to have a railroad connection.

In the 1880s Black families moved into the abandoned houses and started farming. The post office managed to remain open until 1905 when mail was rerouted through Mount Selman.

During the time the Great Depression arrived, Larissa had a church, a school, a store, and more than a few houses. The residents continued moving for better jobs and by the early 1990s only a few scattered houses and a lodge hall remained at the site.
---
---