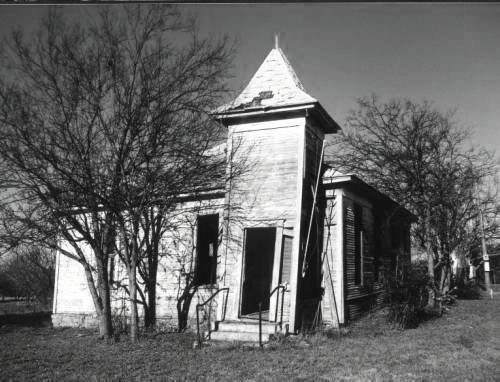 History in a Pecan Shell

Originally named Arkansas, Texas, by storekeeper J. Smith, a post office was granted in the late 1890s. The townspeople may have convinced Smith that Arkansas wasn't a proper name for a town in Texas, but at any rate the name was changed and named after a twist in the (Clear Fork of the Brazos) river.

The town had a brief oil boom in the 20s. But in 1929 when one well came in with mineral water - it seemed to clear up rashs on the bodies of Mexican laborers. Mr. Stoval decided to use what nature had given him and opened up a spa (and skeet shooting range). The resort of Stovall Hot Wells remained in operation until a fire destroyed it in 1994. (See Taking the Waters in Texas by Janet Mace Valenza, UT Press, 2000 )

The population was 500 just prior to WWII, but South Bend suffered the same post war decrease as many small towns and by 1980 there were only 100 residents.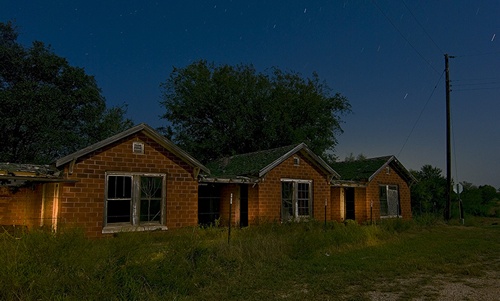 This old motel court sits just west of the intersection of SR-67 and FM-701 in Young County. - Photo courtesy Noel Kerns, September 2007
George & Bessie Burgess store in South Bend, Young County, Texas
Photo courtesy The Gages
1907 Young County postal map showing South Bend
(Below "U" in "Y-O-U-N-G", near Stephens County line, SW of Graham)
Courtesy Texas General Land Office
South Bend Texas Forum
Subject: South Bend, Texas
I am sharing my memories from South Bend, Texas. My grandfather was Mr. Jesse T. Dunn who passed away in May of 1968. He lived in a house he built himself. I am not sure where exactly the correct location is, all I know is my Aunt has told me it is beside a church. I was only 4 years old when my granddaddy passed away so I can't remember that much but I do remember going to a little corner store and getting a soda pop and candy in his 1956 Chevrolet pickup and there was a tree out in front of my grandparents home that I remember trying to climb and my granddaddy came to my rescue. I used to get to go to the Stovall Hot Wells and I remember all the older people playing dominos and a brass band that would be there playing from time to time and getting to go to a little café there for breakfast and getting the next to the best pancakes I ever had (granny Dunn's pancakes will always be the best). That's all I remember about South Bend,Texas. It doesn't sound that important but it always will to me because that's all the memories I have of my grandfather and if there is anyone who knew my grandparents or has any pictures or can take pictures of building and places to send to me I would pay them for them. - Arnold Dunn, June 20, 2006, jerrydamouse@elp.rr.com


Subject: "Taking the Waters in Texas"
I was reading your article on South Bend, TX ghost town and saw that you used my mother's book "Taking the Waters" as reference. She passed away not long after the book was published and I just want to let you know how much it would mean to her to know that her book made a difference. I read the wonderful description that you also have posted for her book. Thank you so much for including this in your website! - Shonda Mace, Austin, Texas, June 07, 2005