History in a (very small) Pecan Shell
The namesake of the community was J. V. Hinkle, an evidently enterprising and busy man who ran the ferry and operated the general store here in the mid 1880s. He also became postmaster when the post office opened inside his store in 1877 (the post office remaining open until 1914).

By 1896 there were 35 residents and a cotton gin and gristmill had been added - including new stores. A school opened about that time with a benevolent ratio of 11 students to the lone teacher. Life remained uneventful and the next report from Hinkle's Ferry came in the mid-1930s when it was reported the number of businesses had been reduced to two. Mysteriously, population figures have remained at the 35 person level for over 100 years. In 2015 a former store was serving as a residence and the land on both sides of the river is listed as Hinkle property.
---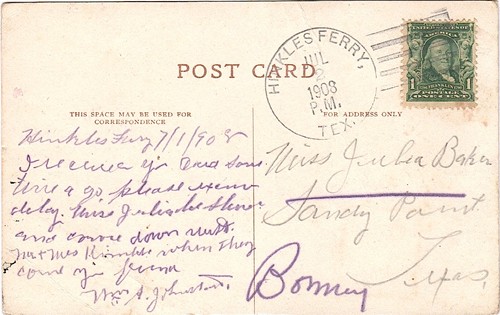 Texas Escapes, in its purpose to preserve historic, endangered and vanishing Texas, asks that anyone wishing to share their local history, stories, landmarks and recent or vintage photos, please contact us.