History in a Seashell
A brief time line of significant events in Raisin's history
1889: established as a stop on the Gulf, Western Texas and Pacific Railroad from Victoria to Beeville.

1892: The town gets a post office. The railroad called the station Lucy, but the postal authorities rejected it - wanting something more distinctive. The name Raisin was chosen to honor a local rancher (J. K. Reeves) who had tried to grow grapes. Judging by the name - it wasn't a successful venture. (See 1907 Victoria County postal map)

The nearby German settlement of Coletoville took an interest in Raisin - probably due to the depot. C. T. Friedrichs, built a gin, and a man named Kohl built a store. Frederichs was the first postmaster and Kohl the second - serving from 1901 until 1914

1914: Post office closes

1930: The American Railway Express office, closes and Southern Pacific discontinues passenger service - a result of a drop in passengers from the opening of highway 59.

The population of the Raisin-Coletoville area has remained at about fifty persons from the early 1900s to the present.

See "Familes of Raisin, 1900s Vintage Photos"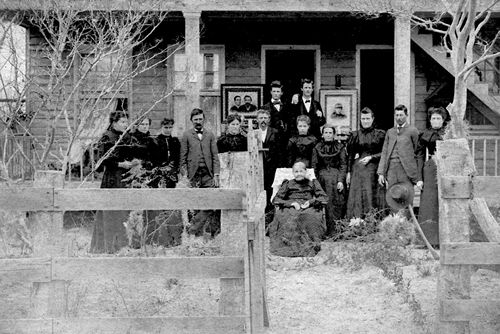 Old Frederich's Dance Hall, circa 1890
Photo courtesy Frank Richard Brown
FREDERICH'S DANCE HALL in RAISIN, TEXAS
[The photo is] from a collection of old photographs that belonged to my great grandmother, Dora Kobitz of the Cross K Ranch that resided on the Victoria County shore of Coleto Creek.

Our family, the Kobitz family, lived on a large ranch that bordered Coleto Creek on the Victoria County side. Most of this property was taken when the Coleto Resovoir was built in the late 1960's. but there is still a small parcel about midway between Raisin and Coletoville. My Grandfather, Preston Charles Kobitz, was the last born male in the Kobitz family, and the last to live in the old ranch house.

In the late 1980's he wrote his remembrances of life in Raisin/Coletoville during the early 1900's; The following passage is taken from those writings:

Time Has Passed it By....
"Raisin was quite a little burg. Otto Kolh had the big general store. Before the Postal Service started the rural mail service, he was also Post Master. There was also a cotton gin, two dance halls. There is a picture of the Frederick Hall among the old pictures. There was a blacksmith shop and two saloons.

Frederichs Hall was quite large, and at Christmas there was a big live oak decorated with popcorn on string. I do not recall if there were apples and oranges. I do recall that there were many gifts under the tree. There were many barbecues, usually on July 4th or other special days. The charge was usually fifty cents for all you could eat. It included potato salad, noodle salads, coffee, vegetables, pickles, bread, and anything you would serve at home for a dinner, it would be on their table. This was always a gala occasion. It would start in the afternoon and end up with a dance at night. The saloons, of course, did a big business! There was always a number of fights and you could bet that a man named John Marr was in at least one of them. The cotton gin, the blacksmith shop, the Otto Kolh store are all gone, have been for years. Also the saloons. Time has passed it by."
- Frank Richard Brown, June 22, 2007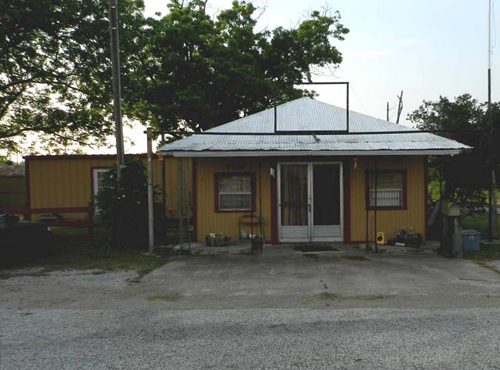 Victoria County 1907 Postal Map showing Raisin
(Below "VI' in "VICTORIA")
Courtesy Texas General Land Office
Custom Search